This job aid describes the changes to the Position Vacancy Listing (PVL) in the UW–Madison Job and Employee Management System (JEMS), as it relates to:
Previous Tabs

Updated Tabs
Core Tab
Business Title replaces Working Title:


Salary/Title Tab
Cluster Hire Program replaces Recruitment Program. Drop‑down options have not changed. This was previously on the Programs/Docs Tab.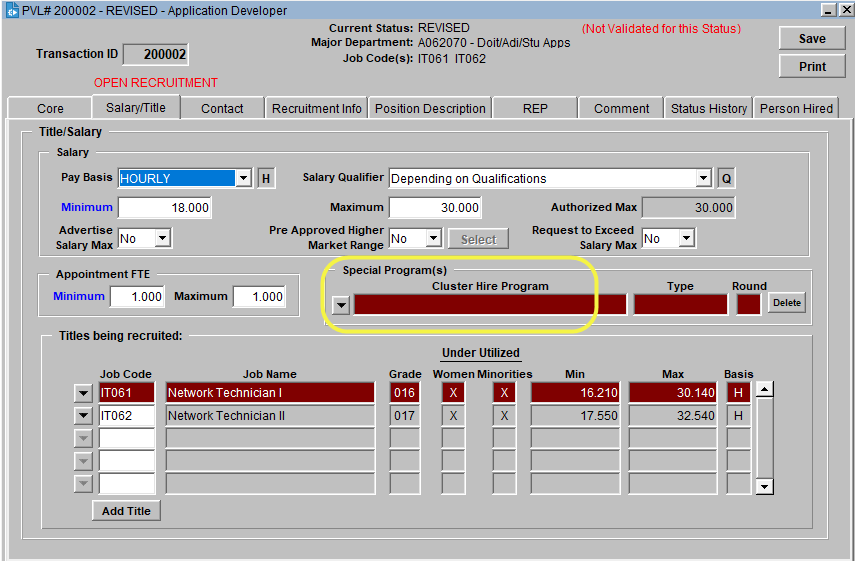 Recruitment Info Tab (was the Qualifications Tab)
Recruitment Information replaces the Qualifications Tab.
Degree Specialization, Minimum Years and Relevant Work Experience, and License and/or Certificate information that used to be found on the Qualifications Tab, is no longer needed here.

Position Description Tab will have this information.

How to Apply replaces Application Instructions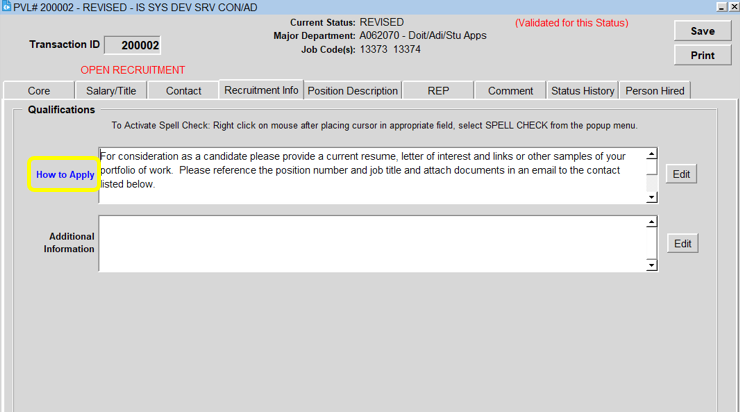 Position Description Tab (was the Standard Job Description Tab)
The Duties Tab has been deleted.
Job Group/Job Subgroup/Job Code and Job Summary will automatically populate information based on the job code selected in the Core Tab.
Job Summary Detail is an editable field where you can describe the position in detail as it relates specifically to your unit. Out of scope titles should include the job responsibilities here. This information will show up on the job posting.
FLSA Status is now on the Position Description Tab and will automatically populate based on the selected job code.
The View Different Title button allows you to see multiple titles selected (if appropriate) and edit the percentages and unique responsibilities.
Number of Individuals Incumbent Supervises (Directly or Indirectly) will now be entered here (previously found on Duties Tab).
Edit/View Position Description Details
Click the Edit/View Position Description Details button to access the other tabs and to complete the position description.


Navigate among the Position Description Details Tabs:

Responsibilities

Job Responsibilities replaces the principal duties field and will automatically populate based on the SJD you've selected.
Unique Responsibilities is an editable field where you can enter unique responsibilities (up to 20%).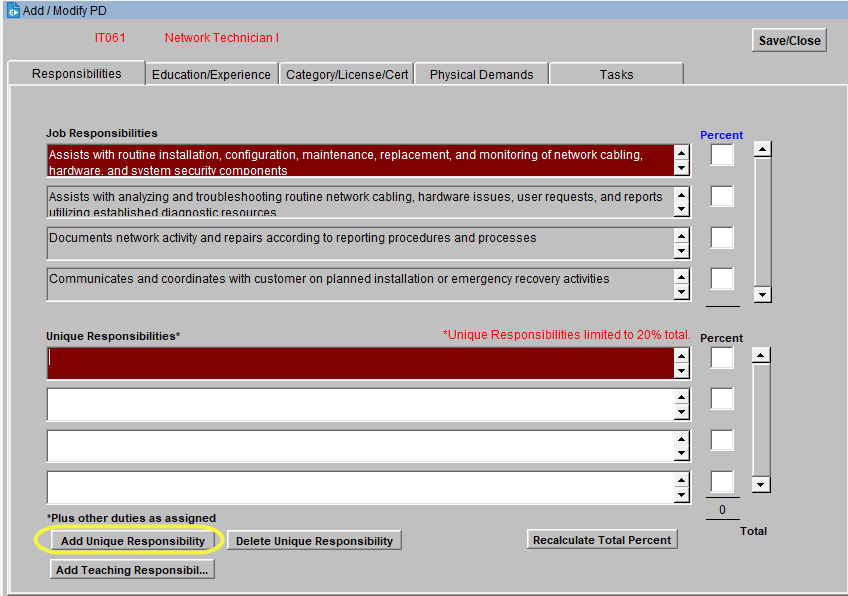 Education/Experience

Depending on the SJD selected, the SJD Default Education will automatically populate.
Using the Education drop down menu, you can tailor the education requirements to indicate a specific type of education and include specific details about that degree—such as a specific field—in the Education Details box. The job posting will use the SJD Default Education if the Education is not tailored.

The Qualifications field is where you enter the Knowledge/Skills/Abilities and other requirements needed to perform the job.

Category/License/Cert, Physical Demands, Tasks Tabs

Be sure to complete the other three tabs, if applicable, and click Save/Close to continue.
Other Changes
On the REP Tab—Anywhere it stated "OED" has been changed to "OAAPP".
Top Menu Bar—APO Actions drop down now changed to OHR Actions