The College and University Professional Organization (CUPA) is the association for HR professionals in higher education. UW-Madison has an institutional membership, which means this membership is free to you. What's in it for you? Learn more from a few of our HR colleagues who have gotten involved in CUPA leadership and training.
Total Rewards Director, Office of Human Resources, and former Secretary for the Board (2008); President-Elect (2016-2017); President (2018-2019);  Past President (2020)
I've always enjoyed attending HR conferences and meeting other professionals, discussing ideas and learning about how other organizations face challenges.  In the early 2000s, a director at UW Milwaukee, who was involved with CUPA Leadership, worked to form the Wisconsin Chapter.  This director encouraged all HR staff to participate in any way they could with the local and regional CUPA organizations.  I joined the board as Secretary and enjoyed collaborating with others at UW to bring about programming for members.  In 2016, while attending a conference, I volunteered to assist the WI Board to re-establish a full board with all positions filled. This was a rewarding time and allowed me to work with some wonderful colleagues both in the State of Wisconsin and at other institutions.  There are many resources available and ways to become involved from the State chapter to volunteering to participate with various CUPA committees.
As a board member, I've formed relationships that have lasted beyond collaboration on conferences or professional development programming.  It is an enriching experience and one that has kept me energized about the work we do in HR even when the challenges can be overwhelming.
HR Associate Director, L&S, and former Wildfire Program Participant
With all the changes that UW-Madison faced when implementing HR Design, I thought it would be helpful to engage with other higher-ed HR professionals across the country. My desire was to connect with others who had experienced similar systemic transitions, and to gain insight on best practices. I applied for, and was selected, to participate in the 2015-16 CUPA-HR Wildfire Program.  The opportunity to participate in this program allowed me to grow personally and professionally as I worked with program leaders and fellow Wildfire Program participants. This program provided critical building blocks for my professional development as I expanded my HR knowledge and expertise.
A benefit of participating in the program's "Topic of Interest" calls was that I increased my confidence when dealing with HR issues and interacting with colleagues. The calls provided an opportunity to hear provocative ideas from HR thought leaders who challenged us to interrogate the way we think. To me, this was one of the most exciting things about the program as it helped me explore areas of potential growth in HR. Additionally, it was reassuring to know that the struggles I encountered were similar to those of other highly successful HR professionals in academia.
The connections I made through the program were extremely valuable. I established relationships that have helped to carry me through many phases of my higher-ed HR career.  These folks continue to remind me of the importance of collaboration and inclusion in the truest sense. To this day, I reach out to my fellow cohort members, mentors, and other Higher ed HR leaders that I met during the program. These relationships are one of my prized possessions in my toolkit, I was able to get to know and develop friendships with some phenomenal individuals.
HR Manager, Division of Continuing Studies, and CUPA-HR Emerging Leader (2021-2022); Treasurer (2021-2022); Past-President (2020-2021); President (2019-2020); President Elect (2018-2019); Membership Coordinator (2013-2019) 
There aren't adequate words to describe how grateful I am for the CUPA-HR community.  I became involved in the Wisconsin Chapter the same year I started my career in Higher Ed HR, in 2013.  The resources that CUPA-HR makes available to Higher Ed HR staff is unparalleled to any other organization, in my opinion.  The content is always timely, and specific to the challenges and resources needed for Higher Ed HR.
CUPA-HR also does a phenomenal job of connecting members across the nation, opening doors and expanding networking opportunities beyond your home institution.  The more involved you become with the CUPA-HR organization, the more you get out of it.  I strongly recommend not only utilizing the resources found on the CUPA-HR website, and attending webinars and conferences, but volunteering to take on a leadership role within your local chapter.  Becoming involved at the local level has opened up several opportunities for me throughout my career, and the relationships that I've built through the CUPA-HR community has provided me with outstanding support when I've needed it the most.
For me, CUPA-HR is more than just an organization.  It's a vital and integral part of my work life.  As we head into the year 2022 I'm looking forward to giving back to the organization that's already given me so much through my work with the Emerging Leader program.
Project Coordinator, Department of Family Medicine, School of Medicine and Public Health, and 2021 WI CUPA-HR President Elect
The main reason I enjoy being involved with the WI CUPA Chapter is the endless opportunities I've had to connect with HR professionals from across the United States. I network, problem solve, and collaborate with—and learn from—individuals I would not normally have the chance to meet.
From the beginning of my career with UW–Madison as an HR Operations Coordinator at SMPH, I've had a passion for connecting and building trusting relationships with others in the HR field across campus. It was through one of those connections that I found out about CUPA and decided to attend the annual WI conference. After that I was hooked.
At that first CUPA conference, it was so uplifting to network with others from different higher ed institutions across Wisconsin who were experiencing similar problems and questions as I was. My interest in participating in CUPA grew from there. I volunteered to assist with the planning of the next WI CUPA Conference, and later applied to formally be on the WI CUPA Board. Being on the board has provided me opportunities to travel to different states like Arizona and Washington to network with other State Board Representatives. I truly value the professional and personal connections that I've been able to create so far, and look forward to continuing to create new connections at the upcoming conferences as well.
The HR CoP Office has been peripherally involved with CUPA-HR since its founding director published an article in The Higher Education Workplace Magazine entitled Building HR Competencies (and Solving Problems) Through Group Think, about the role of communities of practice in HR.
The team also hosted a "story event" to amplify diversity and inclusion in HR, using CUPA's Creating Inclusive Communities Project (with permission from CUPA) to create a "gallery walk" to illustrate the value of storytelling in our work.
In March of 2017, the team presented at the annual CUPA-HR Conference in St. Louis, highlighting the work of colleagues in our community who have successfully sustained a community of practice over time, and the development of our HR competencies framework.
Some of us on the team have explored CUPA courses such as Boot Camp, a self-paced e-learning course that offers a higher ed perspective on essential HR topics; Creating Your Individual Development Plan; and Understanding Higher Ed, a self-paced e-learning course that offers the basic background, information and tools needed to be successful in the unique environment of higher ed.
HR CoP encourages all HR professionals on campus to take advantage of UW–Madison's institutional membership, free to you! Instructions are on the UW–Madison HR Professional Organizations webpage.
(Free) Virtual Oneness Lab: Calling Out, Calling In or Calling UP: Building Racial Literacy to Confront the Empathy Gap and Engage in Authentic Relationship-Building (December 9, 2021)
We're navigating the challenging contexts of pandemic-impacted workplaces and communities, alongside fraught and polarized discourse around racial justice that seems to be heating up more every month. As we seek to bridge divides between "us" and "them," how might building racial literacy help us to move beyond the dichotomy of calling people out versus calling in, to something new: "calling up"?
This is where we rise to our potential, holding a space for sincere and courageous conversation, relationship cultivation, community-building and deeper learning. This talk will explore some big ideas and practical steps you can take in your professional and personal spaces.
The CUPA-HR national office is generously sponsoring a live Q&A session after the keynote presentation—designed to unlock the mindsets and skillsets that help us go deeper than "achieving diversity." You'll gain racial literacy, learn positive approaches, and cultivate the courage and skills needed for building racial justice.
WI CUPA Annual Hybrid Conference (Spring 2022) 
More information about this opportunity will be available soon on the WI CUPA website.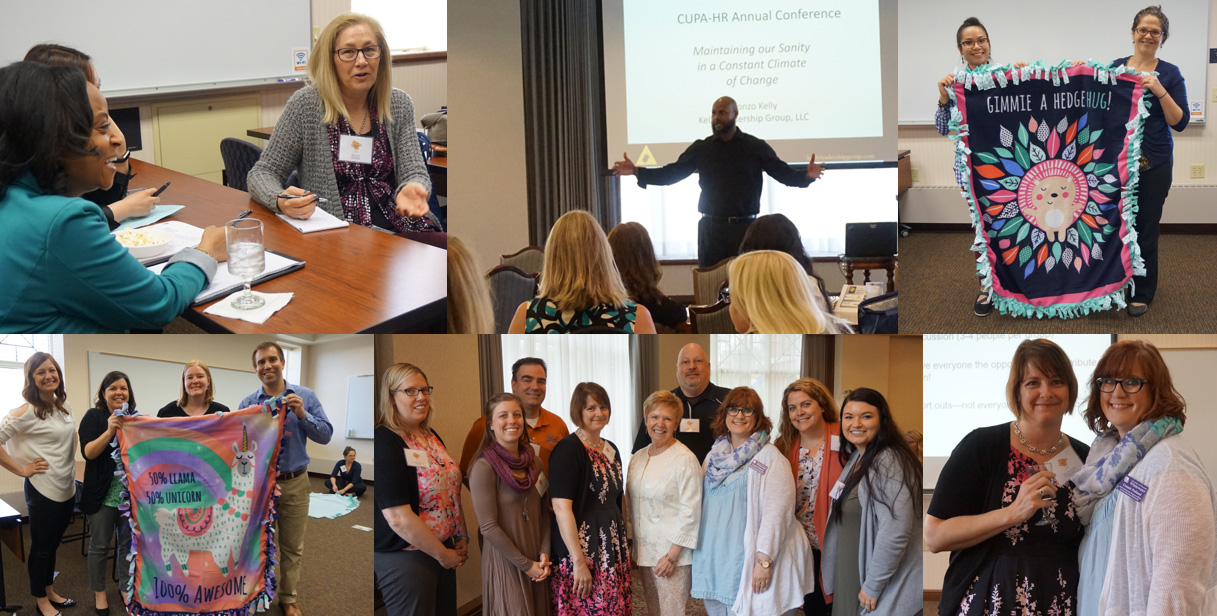 Stay Connected with the WI CUPA Chapter: 
Membership is free and open to all higher education HR professionals in our area!
To ensure you receive emails with chapter updates/notices of upcoming chapter events, make sure you have an account with CUPA-HR. There's no charge to create an account—and the process is easy! Simply create a free account on the CUPA-HR website. Be sure to identify your institution as your primary organization.
Already have an account with CUPA-HR? Log in to manage your e-mail preferences and select Chapter News and Events.