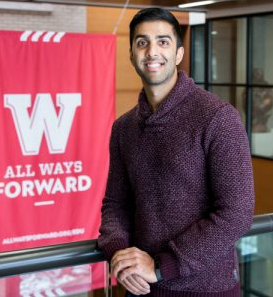 Earlier, this month, School of Education HR Manager Gautam Jayanthi published an article entitled, Stop Trying to Suppress Your Bias in Hiring in Step Up for Equity, an organization committed to learning to create and engage in conversations about inequities in the workplace and our communities. The article was shared with members of the UW–Madison's Recruitment Community of Practice.  We wanted to share the article more widely amongst our campus HR community to foster conversation. We were also curious: what prompted Gautam to step up to write the article and get more involved? In Gautam's own words:
I sort of fell into HR. While getting my MBA here at UW–Madison, I heard a lot of lip service paid toward inclusion efforts without evident follow-through. When professors would talk about building more equity into the workplace, it was more about "corporate social responsibility." This is the idea that perceived acts of goodness reflect your company's values and that with these, customers utilize your goods and services more. In other words, a company might promote more marginalized folks into leadership positions or work with community partners because it looks really good to shareholders. Diversity and inclusion become a means to an end.
When I would ask about how these efforts were put into place, or whether they did any actual good, I got the impression that this was an afterthought: "Well, you'll have HR to do that for you."
Considering that I was already zoning out during my corporate finance classes, I knew that the business world wasn't for me. I didn't want the evidence of my contributions to be a higher stock price, or how many zeroes the C-suite got on their bonuses at the end of the quarter. I wanted to work with a team that was actively building equitable workplaces. This involves doing the work of interrogating and dismantling systemic inequities and creating sustainable opportunities for folks who have been historically shut out from them.
That's how I found myself at the School of Education. As one of our Recruitment and Onboarding Coordinators, I work with department chairs and managers to build inclusive recruitment efforts, and to refine strategies on how to holistically evaluate, bring on, and retain talent from a wide spectrum of professional backgrounds and lived experiences. One of the ways I do this is by asking lots of questions: Why are we recruiting for this position? What is our end goal with this position? Why is experience important? What do you mean when you say, "must have University experience"? Who is being excluded when we say that?
This past January, I became involved with Step Up for Equity as a facilitator. Step Up for Equity creates dynamic workshops particularly aimed at creating and sustaining inclusive workspaces. I attended a few workshops over the past couple of years and found myself appreciating the participation-heavy approach that the team takes. You're not just going to a conference room and having folks talk at you for two hours. Rather, attendees take an active part in their own learning by reflecting on their own experiences and building upon one another's knowledge.
After joining Step Up's group of facilitators, they asked me to write about my experiences in HR, so I wrote the article, Stop Trying to Suppress Your Bias in Hiring. The focus is on deconstructing our biases, especially when it comes to hiring decisions.
I will be building on this article in our Inclusive Hiring Lab, which you can find along with a full list of our upcoming events on Step Up for Equity's website.
I truly believe that equity and inclusion isn't the kind of thing that we can compartmentalize. The idea of treating it as separate is what drove me away from the business world. Instead, joining a community of practice ("CoP"), such as the Equity, Inclusion, & Diversity CoP on campus where I can work through tough conversations about breaking through entrenched institutions, or the Recruitment CoP where I work with recruiting peers toward operationalizing inclusion, I strive to make sure that this work is woven into everything I do.