This month we have the pleasure of learning more about the Employee Disability Resource (EDR) Office and its four employees. Our colleagues in the EDR Office have partnered extensively with the HR community—especially in these COVID times in support of the work that Divisional Disability Representatives (DDRs) have undertaken on behalf of the faculty and staff at UW–Madison.
When was the EDR Office formed?
There was never a name for this work at UW–Madison until two or three years ago when we branded the work as the Employee Disability Resource Office—but a former longtime employee named Nancy Maltz did the work beginning in 1990 when the Americans with Disabilities Act (ADA) was passed. She worked until early 2006, and Barb Lanser was hired later that same year. Barb worked on her own until July 2018 when Jenn Streator was hired. The team grew to include Rebecca Fitzgerald in January 2019 and Dana Goodman in January 2020.  The office anticipates hiring another accommodation specialist in early 2021.
What's the mission of the EDR Office?
The mission of the office is to create a more inclusive workplace for employees and to support compliance with federal and state disability-related laws and regulations.
The EDR Office provides guidance, leadership and resources for human resources, employees, managers, and supervisors related to disability- and medical accommodations-related questions.  We lead the DDR program and support processes for disability accommodations and temporary work adjustments, and provide leadership to campus (e.g., toward COVID-preparedness, campus disability trainings and workgroups, recruitment and hiring).
What's the current state of EDR?
"It's hard!" Barb Lanser, functioning as director, admitted. "So much of what we usually work on is paused right now—and in its place is pandemic response: supporting our HR community and our employees in responding to needs that are arising due to COVID-19. The office continues to consult on workplace accommodations and partner with campus wide stakeholders, along with the focus on pandemic response.
What might the future hold for the EDR Office?
The EDR Office will recruit a second accommodations specialist this fall, and initiatives that are currently delayed (e.g., the formal Return to Work Program, the configuration of an online case management system, the creation of a DDR Community of Practice, the EDR website overhaul, and outreach/ training to bring visibility to disability issues on campus) will be revitalized.
Meet the EDR Staff…
Barb Lanser, Disability Coordinator for Employees
I've always worked in the disability field, helping to create access for individuals with disabilities in clinical, outdoor, community, and employment settings. My first job out of college was with University of Wisconsin Milwaukee and Easter Seals: I lead a Robert Woods Johnson Foundation grant to include people with disabilities in recreation programs all over Milwaukee County. There, I learned a lot about accessibility!
When the ADA passed, I was in grad school for rehab counseling and rehab administration at Southern Illinois University (SIU), where I also worked as the director of Outdoor Therapeutic Recreation Programs. At SIU, participants with disabilities shared that "this is the only fun thing I do all year!" That sparked my interests in attitudes towards individuals with disabilities and supportive living.  After grad school, I worked at Catholic Charities in Madison directing a supportive living program, managing 70 employees and supporting clients to live as independently as possible in our community.  Our clients' greatest desires were to work, which drew me to the City of Madison where I worked as an Occupational Accommodation Specialist. I managed reasonable accommodations, offered training and was the "go to" person at the city for anything about disability and employees.
I joined UW–Madison in 2006, and it's been a really great match for my skills. I have a strong background in serving people with disabilities, and as a supervisor, there's always been an HR thread (e.g., recruitment, hiring, performance management). I'm also passionate about the ADA!
What excites me most about working on the UW Madison campus is the collaborative environment, great staff and always learning something new. There's a lot of opportunity here and we have a huge impact on people. Especially in this COVID time, everyone in HR—particularly those who are also serving as DDRs—have been pulling together for our employees. It's really cool.
What motivates me is being able to help others—seeing it work out for employees to stay employed, and helping DDRs and HR to learn and grow in this area. By making accommodations for employees and keeping people with disabilities employed, we add to our workforce's diversity and help to improve attitudes about employees with disabilities.
For fun right now, I don't do a lot because of the huge workload!  I'm really connected with my neighborhood and I plan a yearly block party…but not this year. I also have a 1.5-year old rescue puppy, and enjoy growing veggies in my garden, spending time with family and friends (1:1), and going (pre-COVID) on meditation retreats. With my roots in outdoor recreation I also love pretty much any outdoor activity – during the pandemic it's mostly very early morning dog park walks with Murphy, my pup.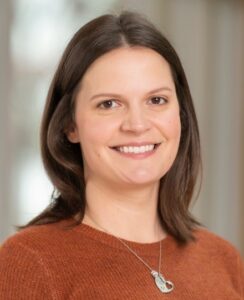 Jenn Streator, Employee Accommodations Specialist
My career trajectory could not have been planned! I graduated college with a degree in kinesiology (human performance and health promotion), and planned to go back to school for OT or PT. I love learning how the body works and was particularly interested in helping people with disabilities after being a guide runner for a high school student who was blind. After college, I worked at Special Olympics Wisconsin for 8 years, and found that I wanted to work more 1:1 with people with disabilities. I obtained a job at a small agency in Dane County where I advocated for 25 adults with disabilities, coordinating services for them. Dane County was moving to the statewide care management model in early 2018 which forced our agency to begin care management of children with disabilities from birth to 18. At the same time, my longtime friend Heather Stelljes, who is an Access Consultant for McBurney Center, sent me the posting for my current job. I wasn't looking but took the leap to apply, figuring that no matter what, I'd have a new job! I'm so glad I applied!
I love working for UW! Working for an institution like this brings its own energy. I love the atmosphere that all of the seasons bring (well, maybe not standing out for the campus bus in the winter). It's a beautiful place to work, full of passionate students and employees.
My mixed background might seem like a stretch for my being here but all of my education and former employment have underlying themes: creating and making adjustments to activities for a person to be able to participate; the interconnectedness of the human body; a person-first approach; working for large systems that have broad impacts (Special Olympics was global; Dane County;  and now UW–Madison ); and working with really awesome people who have great talents to share with their community and employer.
What I've loved most about my work and what motivates me includes the time I've spent with people who have medical needs or disabilities. They make my day, any day. They motivate me to keep learning and growing.
My entire career has been shaped by those I've supported in one capacity or another. Several pivotal moments with specific individuals I've supported have had a huge impact on my life. Being a guide runner, being a coach for the 2016 USA National Games for Special Olympics (supporting one person for a week), being a care manager and advocating for some really crucial support for some individuals, finding ways to advocate for those I supported even when systems were changing and I literally couldn't be in the room—and then creating templates for the whole county to use… all of this led me to here!
For fun, I get outside—whether sitting outside or being active. My husband, Geoff, and I are big hikers and love exploring near and far, even in winter. It's a very restorative activity for us as a family. Our son, Miles, was just born and we can't wait to get out on the trails with him—and yes, his name was influenced by this activity!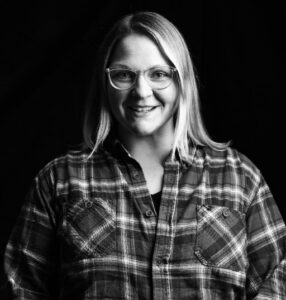 Dana Goodman, Return to Work (RTW) Coordinator
After I graduated from UW–Madison's School of Human Ecology with a degree in human development and family studies (with an emphasis on lifespan development), I worked in Boulder as a residential house lead and case manager for adults with cognitive and developmental disabilities. There, I came to realize how powerful work is in one's identity!
I returned to UW–Madison's School of Education  for grad school in rehab psychology and special ed, and interned with the Wisconsin Department of Vocational Rehabilitation, assisting counselors to provide assessment/ broker services.
After grad school, I did community job development for veterans at the VA. "Work is therapeutic" was the idea. There are natural supports from people in a work environment.  If we can bring people out of isolation, they tend to see symptom relief. In isolation, however, they need so much more formal support.
Throughout my time at the VA, I partnered with people at UW–Madison, and when a WI Idea grant opportunity arose, my partnerships with UW grew. When the Return to Work position was announced, I applied and was hired! I started on January 6, 2020.
My role as Return to Work (RTW) Coordinator is to develop and lead a formal return to work program (RTW@UW) at UW–Madison. I'll also serve as a consultant and liaison between employee, employee's healthcare treatment team, DDR, and sometimes the UW workers comp coordinators to support employees' return to work, regardless of illness, injury or disability. My work at the VA prepared me for this work. When veterans serve their country and are injured on the job (physically or mentally), they qualify for service-connected pension (e.g., from tinnitus from exposure to artillery or from PTSD common to combat veterans). The service-connected pension is similar to worker's comp.
My program is on pause to support DDRs and employees during the pandemic—a huge need!  In spite of COVID, what excites me most about working here is being part of the influence that the university has on the wider community. This is a powerful institution. There's a lot of thought, research and application of knowledge that originates here.
What motivates me is being able to contribute to health promotion and disease prevention—and helping in general. I believe in the potential of all people and in the holistic cultural and transformational approach that we used at the VA: focus on what matters most to the individual (vs. the problem list).
I was a ski bum in Boulder. Today, I love going on adventures with my husband Jason, son Miles, and daughter Madeline. We camp, hike, bike, and in the winter, go ice skating.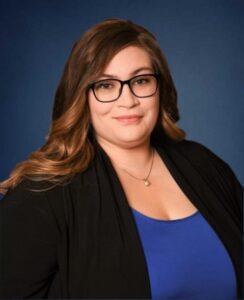 Rebecca Fitzgerald, Grad student in clinical rehabilitation counseling, part time admin support
I studied rehabilitation psychology as an undergrad at UW–Madison and am now pursuing a masters in rehabilitation counseling. These both focus on supporting individuals with disabilities in achieving their personal, career, and independent living goals.
I began interning in the EDR Office as an undergrad and have been able to stay on as a grad student. I support Barb, Jenn and Dana behind the scenes, doing clerical/ administrative and project work—and have loved getting to know more about UW in general and how each department, unit, and school works to support students and employees.
The EDR Office is all about supporting employees who have disabilities to be as effective and comfortable as possible in their careers at UW.  Some of the experiences I've had that have prepared me to work in the EDR Office include my position at an Independent Living Center where I supported individuals with disabilities in reaching their career, academic, and independent living goals. This included finding area resources and assistive technologies, and studying the laws related to individuals with disabilities. For example, I worked with a client who was having trouble at work. They were losing their eyesight and wanted to learn more about text-to-speech software. I worked with them to try a few different programs, and ultimately referred them to the WI Council for the Blind.
I love working with people and finding solutions to problems. Sometimes figuring out solutions to these problems involve many different aspects—it can be like putting together a big puzzle. The ideal result is that the person lives a happy and fulfilling life.
My favorite master's classes include ethics, which is very interesting to me, and a social cultural foundations class, which this relates to everything in life.
When I graduate in a year and a half, I'd like to provide transition services (academic and employment services) for students who are graduating from high school. I worked with several young men in middle and high school who had autism, and noticed they were slipping through the cracks.  Most are not working.
In addition to my work at the EDR Office, I work at the Beacon, a day center for people experiencing homelessness. A lot of the guests there also have disabilities. If the disability is a barrier to employment, I talk with them about accommodation.
I don't have a lot of free time for fun, but I make sure to carve out time for myself at least twice a week. During these times, I enjoy hiking with my dog, Izzy. I also enjoy reading, especially the true crime genre.  I'm from Madison – favorite part is the east side – "home." Other favorites: a goat farm in Waunakee called "The Goats," and Parfrey's Glen in Merrimac—it's a beautiful place—but not accessible though.