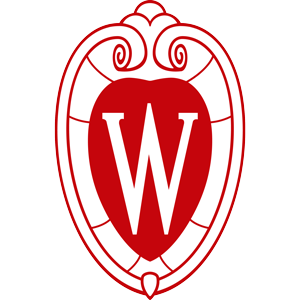 A WorkCenter in HRS is a collection of commonly used tools.  The UW Finance WorkCenter provides quick, easy access to the tools needed for working with funding.  It contains quick links to HRS Pages commonly used in the budget funding process: Job Data, Review Paycheck, Review Actuals Distribution and the Budget Funding Data Entry page.  It also contains links to SFS, WISDM and the Payroll calendars.  There's also quick access to funding queries and reports.
To access the WorkCenter, from the main menu select Payroll for North America>Payroll Distribution>Commitment Accounting USA>UW Finance WorkCenter.  The WorkCenter pane is on the left.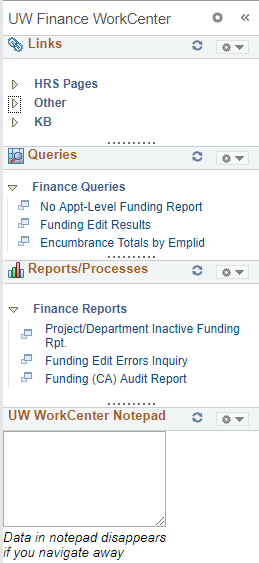 The Links section contains quick links to HRS pages, relevant KBs and Other commonly used pages and systems.  Click the triangle next to the heading to expand to see the links.  Click the links to open the page to in the right pane of the screen, or click the icon to open in a new window.
The Queries section is customizable – you can add other queries to the list.  Click the sprocket icon in the upper, right corner and select personalize.  See KB 85521 for detailed steps.
The Reports/Processes section has links to commonly used reports.
The UW WorkCenter Notepad is a place to temporarily place information.  For instance, if you are adding funding for a new employee and you need to look up effective date in job data before entering the funding, you can use the notepad to note the empl id and effective date.  The data stays in the notepad until you navigate from this page.
Give the WorkCenter a try—it's a quick way to have access to funding tools.