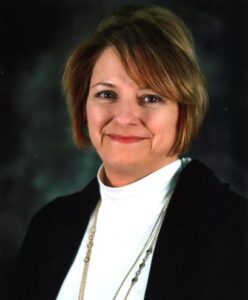 What was your path to working in human resources, and in higher education?
After graduating with a Political Science Degree, I began my career working for a small company that worked with local school systems in science education.  When I relocated to Texas with my husband who'd accepted a postdoc position at Texas A&M, however, I wasn't certain what work I'd do.
I went into the TAMU HR Employment Office to see if there were opportunities on campus, and met someone who changed the course of my career.  This person was known for holding one-on-one conversations on how to gain employment at TAMU and navigate the application process.  After a half hour discussion, he encouraged me to apply for a role within the HR department working in Immigration—which I did.
Soon after starting in Immigration Services, I was asked to consider applying for a position to be the HR & budget person for the department.  This role gave me experience working with members of the management and leadership team, building budgets, and working in many areas of HR to provide support to employees.  Working on a college campus and supporting the mission of higher education proved to be rewarding for me. I realized that I would remain in higher ed.
After a few years, my husband was seeking assistant professor positions and we knew we wanted to live in the North—either the Northeast, Northwest or Midwest.  My husband accepted a position at UW Milwaukee.  After brief break from working and two interviews, I also joined UW Milwaukee, jumping into their central HR office where I worked with what was then Classified Employment.  From that point onwards, I was able to expand my knowledge, learning both central and unit level HR perspectives.  My work spanned across all the HR functions.  When OHR's Total Rewards Director position at UW–Madison became available, my family and I discussed the opportunity at length before I applied. I am very pleased that I did and that I joined such a wonderful team of HR professionals.
What have been some of your formative educational experiences (formal or otherwise)?
Working in Human Resources gave me an understanding of HR principles, federal and state laws and UW-specific policies.  As one who values learning, I sought a master's degree in human resources to deepen my understanding of strategy, organizational design and the history of the labor movement.
What experiences stand out as having prepared you most to work as the Director of Total Rewards? 
The experiences that stand out most for me are the ones in which I worked directly with employees, supervisors and leadership in the schools/colleges/divisions regarding HR topics and issues.  It was clear that having internal knowledge of the organization through an HR lens (e.g., for policy or systems development) was important, particularly in so far as this lens helped me know where compliance guardrails exist.  Having worked with a variety of areas at UW Milwaukee and throughout UW System has enhanced my business acumen related to higher education.
What inspires you most about the work you do? What motivates you?
The bottom line for me is helping others.  I like to solve problems—this becomes a restorative process particularly when working through complex issues and arriving at a viable solution. Opportunities to help others and to facilitate business solutions ultimately inspire me.
What do you appreciate most about working within the UW System—and expect to appreciate at UW–Madison?
I appreciate the collaboration within the UW System and its resulting partnerships.  At UW–Madison, I believe that leveraging so many individuals with a variety of experiences and perspectives, as well as working with the greater campus community, will be very fulfilling.
If we were working in person, what's something we could expect to see in your office?  
A candy dish with mints, my travel coffee mug, a variety of plants, and many photos that my husband has taken on our many travels, as well as various photos of my daughter and son.
What advice might you offer to others who are interested in growing in the field of human resources?
I believe strongly that individuals should play to their strengths. Learning what your strengths are and being open to projects or opportunities to collaborate with others in ways that utilize your strengths, skills and interests is important. I also believe that having a mentor can often help. My mentors have been really good about providing me with feedback regarding my strengths and weaknesses.  The key is to be open to receiving constructive feedback and acting upon it.
What do you do outside of work that brings you joy?
My husband, Graham, and I enjoy bike-riding, hiking and working in the garden.  My kids, Madeline and Taigh, and I love musical theater and try to attend as many of the Broadway shows that come to Milwaukee as possible.  We also love to travel and hope to travel more in the future, especially back to Australia where we have family.