The Person Checklist is new functionality in HRS to provide an area in which to enter important dates at the person-level instead of job-level.
The Person Checklist includes the ability to track Criminal Background Check (CBC) and Position of Trust (POT) for Persons of Interest (POIs).  This new functionality is helpful for tracking CBCs for Precollege POIs.  This does not change how CBCs and Position of Trust data are tracked for employees. (That information is still tracked through the Person Assignment Checklist.)
To add a CBC to the Person Checklist for a POI, navigate in HRS to Workforce Administration>Personal Information>Organizational Relationships>Person Checklist.
Select UWPOI for the Checklist field.  For the Item Code, choose from the following:
UWABC2 for UWMSN POI CBC – POT 2 YR Rechk
UWABC4 for UWMSN POI CBC – POT 4 YR Rechk
UWABCN for UWMSN POI CBC – POT No Recheck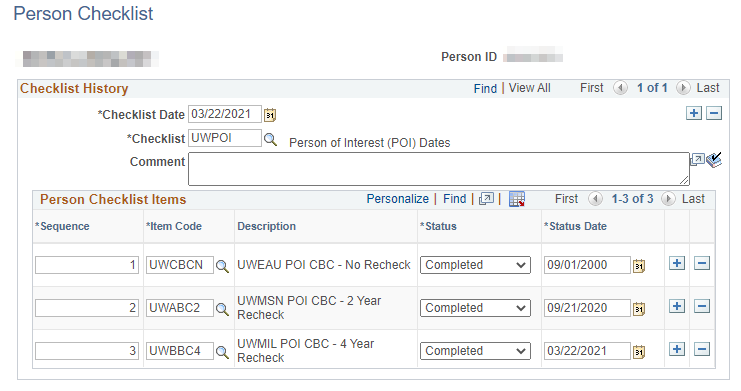 To monitor dates on the Person Checklist, use the query available in HRS  (UW_HR_POI_CHECKLIST_BY_DT, which is located in Reporting Tools > Query > Query Viewer) to show the dates for POI Criminal Background Checks and Position of Trust.
For more information on the Person Checklist, see KB 109874.