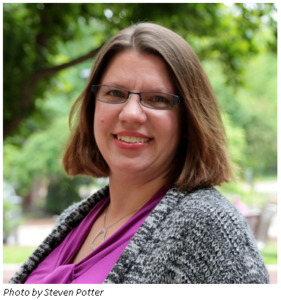 Position: Department Administrator
Location: Department of Educational Psychology (Ed Psych) in the School of Education
How did you come to work as a Department Administrator for the Ed Psych Department?
My career has been all about providing service. My first job at 14 years of age was at Roberto's Pizza where I answered phones. (The greeting was so ingrained in me, I once answered "Roberto's Pizza" while at home, and my grandfather who was calling thought he'd dialed the wrong number!) I've also answered phones at a hair salon, and was a receptionist for a payroll company early on.
Everyone is a customer. It's not about the 'customer always being right.' It's about being able to understand their needs. They want to know that you're capable of hearing them and fixing things.
I grew up in a Chicago suburb and went to UW-La Crosse, first declaring archaeology as my major, then switching to anthropology, and ultimately sociology. When my appendix ruptured and I had to have surgery without having health insurance, I left school to work full-time so that I could pay off the $17,000 bill. That's when I took a job as a receptionist for a payroll company. The company put me through their training program to do payroll and benefits taxation work, which is how I got my start in human resources.
I worked for that company for nearly eight years and discovered that, contrary to my earlier belief, I was good with numbers, particularly practical math. If I know what your deductions are, I can hand-calculate your net pay within three cents!
After the company downsized in 2011, I joined the School of Engineering as a Payroll Coordinator, serving graduate assistants, postdocs, and visiting scholars. I picked up things along the way, such as cost transfers and reimbursements, and realized I wanted to learn more. Payroll and benefits was 100% of that job, and I wanted a position with broader responsibility, so I began applying for Department Administrator roles. It took some time, but in December 2013, I was hired as Department Administrator in the Department of Educational Psychology.
Ed Psych has 21 faculty members, four permanent staff (including me), five student hourlies, and approximately 100 graduate students.
As a Department Administrator, I serve in many administrative capacities involving budgets and grants (small awards to full GPR 101 monies), human resources and payroll, facility upgrades and maintenance, and general administration (e.g., agendas and minutes for our department meetings). I also manage three permanent staff: a Graduate Coordinator, Financial Specialist, and Program Associate.
My understanding spans payroll and benefits, budgets and financial reporting, human resources, international visitor needs (visas and insurance), and HRS. This role is a good fit for me.
What are you proudest of in your career?
The overall atmosphere in the department was negative when I got here. I made a point to build relationships, especially with the people who were most upset about how things had been going. I built trust and kept my commitments to them, proving that I was willing to look out for them.
Recently, I was awarded the Claire Shaffer University Staff Distinguished Achievement Award but overall, what I'm proudest of is having built a team that works well with each other. We don't second-guess each other. We trust each other and I know the work will get done.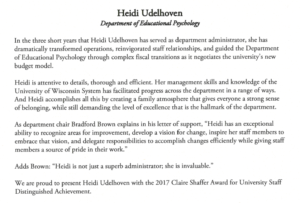 What's your advice for HR & Payroll Professionals and other Department Administrators?
My advice would be to be open to using information to find creative ways to partner with faculty (or the people your department or unit serves) to achieve what they need within the constraints of the university system. Don't stick with a process just because that's how it's always been done – there's always room for improvement.
I have the ability to shape how we do business in my department. For example, I completely restructured how our University Staff positions function. Previously, we had five permanent staff, including three 'University Service Associates,' a generic title in which everyone did a 'little of everything.' I worked to delineate the expertise that each of these roles should have.
In the process of delineation, I discovered that we were overstaffed. Now, we have four permanent staff instead of five, and no one's workload changed. I took the same approach with our physical load: we had five storage areas and now we're down to two. We purged records appropriately. Cleaned house!
What excites you most about working on the UW–Madison campus?
There's a certain vibrancy and sense of community that keeps me here. I was born and raised in the Chicago area, lived in Minneapolis for a year, and went to UW-La Crosse. Madison just has a certain kind of energy. It's the biggest small town you'll find! I live in Oregon, and can see a cornfield from my kitchen window but can be at my office on campus within 12-15 minutes.
I wasn't exposed to much diversity until I moved to Madison. In the Chicago suburb where I was raised, my high school was attended by mostly white students who were sheltered to a large degree.
Diversity is such a huge topic now. I want to learn more! I'm hoping to return to school next spring to work toward finishing my degree (probably at UW-Whitewater in their online Business Administration program), and would like to find a way to integrate diversity learning into those studies.
What do you like to do outside of work?
As the mother of 6-year-old triplets, almost every moment I have away from work is spent with family. We garden and cook together – the girls especially love to help with baking. My husband and I have also been enjoying the weather lately by getting the kids out on long nature walks, in between their many dance and swim classes. So, I guess both at work and home I'm a team manager!