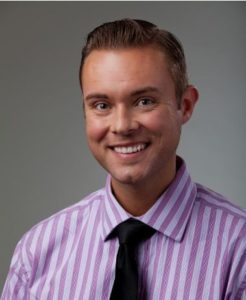 Name: Jordan Allen
Position Title: Payroll & Benefits Specialist – Advanced
Location: School of Pharmacy, SMPH
Educational Background:
Bachelor of Arts – Music Performance, Eastman School of Music
Master of Arts – Music, UW–Madison
Graduate Certificate – School of Business, UW–Madison
How did you come to work in Human Resources at UW–Madison?
Prior to moving to Madison, my education and career history was entirely in the arts. Beginning at age 15, I started to travel the country participating in various music festivals and learning opportunities that supported my passion for the cello. Eventually, I ended up at the prestigious Eastman School of Music (University of Rochester), which is where I received my Bachelor's degree. After graduating from my undergraduate program, I moved to Miami Beach, Florida where I played in the New World Symphony under the direction of Michael Tilson Thomas. As my time in the New World Symphony was coming to an end (you can only participate for three years), I realized I was seeking something else from a career standpoint. I was awarded a fantastic fellowship at the University of Wisconsin–Madison, and came here to earn my Master's degree, where I continued to study music and earned a graduate certificate from the School of Business. Towards the end of my graduate program, I applied for a few jobs on campus and the College of Agriculture and Life Sciences – Office of Human Resources took a chance on me. Boy, am I grateful that they hired me! At CALS, I worked in a position that provided me with the opportunity to learn a lot about payroll, benefits, and human resources activities within the University.
What excites you most about working on the UW–Madison campus?
In my current appointment working for the School of Pharmacy, I work in a divisional HR Office that also functions as a department. I can genuinely say that I enjoy my colleagues and find the work that I do to be very rewarding. We are a small office that requires daily communication and collaboration, which I really like. Also, because of how we are structured, I am able to learn a lot about different processes related to payroll and benefits within the University.
Recently, I was able to put on a more creative hat to help SMPH payroll out with special cases that required varying levels of problem-solving. I also thoroughly enjoy participating in the Payroll and Benefits Community of Practice, which gives me the opportunity to share my knowledge and learn from others.
What's happening in your division these days?
The School of Pharmacy is doing great things, as we are a world-renowned launch pad for life-changing discoveries, cutting-edge innovations, and rewarding careers. One thing that I think is really cool about School of Pharmacy is the fact that some of our students get the opportunity to do experiential learning and provide service to rural areas in the state. There is definitely a need for access to education in rural areas, and this also aligns with the Wisconsin Idea.
My co-worker, Jenni Regan, will be out on maternity leave this summer. While I will miss her presence in the office, I am so thrilled to help support her during this wonderful life event and am looking forward to putting on my HR hat to support the School of Pharmacy's human resources needs in her absence.
Any advice for HR Professionals at UW?
I am not one to give advice, but I do have some career mottos that I try to live by.
Put yourself outside your comfort zone – this allows you to grow.
Be mindful of your time – we all have a lot of work to do so it's important to invest in opportunities that improve the work you do and to know what things you can safely say "no" to.
Collaborate – it is important for all HR and Payroll professionals to partner with each other, whether it's in your immediate department or with others across campus. Our roles are so intertwined and we provided better service to our customers when we function cohesively.
Hobbies?
I play with the Madison Symphony Orchestra, Madison Opera and also play with a string quartet that is based here in Madison.
My husband and I bought a midcentury ranch home just over a year ago and we are SUPER passionate about maintaining and renovating it. I also enjoy running, cooking, baking, antiquing, doing yard work, and of course, spending time with my family and friends.