"Curiosity and Vulnerability: Traits of a Fearless and Inclusive Leader"
Inclusive leadership is essential in cultivating a culture of innovation, high performance as well as employee satisfaction. Research shows that leaders who exhibit empathy and compassion are better able to develop an inclusive culture where all employees feel like they are an integral part of the organization. This session will focus on the mindset and behaviors that encompass inclusive leadership.
About the Keynote Speaker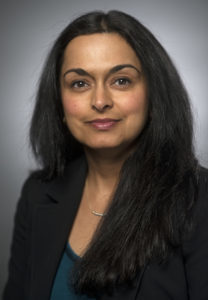 With more than 20 years of work experience in the University of Wisconsin System, Binnu Palta Hill joined the Wisconsin School of Business (WSB) in 2006. In her role as Assistant Dean for Diversity and Inclusion, she works closely with the Dean to develop a diversity strategy congruent with the mission and business strategy of the school. Ms. Hill leads the school's Diversity Advisory Board, comprised of senior executives from the corporate sector.
Under her leadership, WSB has made significant progress diversifying its faculty, staff, and student population and cultivating inclusion. Ms. Hill founded "Diversity Lunch & Learns," discussion forums on sensitive topics such as ethnicity, race, gender, and sexual orientation. These forums integrate academic research with lived experiences of faculty, staff and students at UW–Madison. As the School's chief diversity officer, Ms. Hill represents WSB on the UW–Madison campus diversity leadership team. In May 2015, Ms. Hill represented WSB at the White House as Wisconsin became one of the first business schools to commit to best practices for increasing opportunities in business for women and preparing a culturally competent 21st Century workforce. She has also served on the advisory boards for WI Governor's Youth Summit and Information Technology Academy Pre-College Program. In recognition for her contributions to UW–Madison and the Madison community, she was awarded UW–Madison's Outstanding Woman of Color award in spring 2017. In fall 2017, Ms. Hill was selected to participate in UW–Madison's Kauffman Seminar for Leadership Development. Most recently, the broad impact of Ms. Hill's work was recognized as she was awarded the 2018 Wisconsin Alumni Association Leadership Award.
Ms. Hill has been an invited speaker at conferences throughout the United States, and in Europe. These include the National Conference on Race and Ethnicity (NCORE), Women and Leadership Symposium, UW–Madison Diversity Forum, All-State's The Power of Diversity Conference, Ascend's Changing Demographics and the Global Conference on Diversity and Inclusion. Ms. Hill also consults with public and private firms to help executives strengthen their leadership skills through experiential workshops focusing on consciously cultivating inclusion. Participants learn tangible skills related to inclusive leadership. The core of her work centers on embodying curiosity and a learner mindset to mitigate unconscious bias in decision-making. Ms. Hill's work has been featured in The Capital Times several times. Ms. Hill holds Bachelor's degree from UW–Madison and Master's in Business Administration from UW–Whitewater.