WiGROW Program Overview
WiGROW is an engagement initiative designed to support the learning of student-employees. Supervisors and student-employees engage in intentional, reflective conversations each semester, providing students an opportunity to consider connections between their on-campus employment, career goals, and college experience.
Key features of W
i

GROW conversations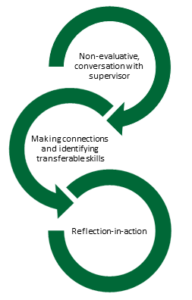 WiGROW conversations are neutral and non-evaluative. Engaging in reflective conversations with their supervisors, separately from performance-related feedback, allows students to approach work as a learning opportunity.
WiGROW conversations identify transferable skills. Student-employees develop a broad range of skills in their on-campus jobs. In WiGROW conversations, students and supervisors name these skills and build upon them.
WiGROW conversations encourage reflection-in-action. Having these conversations can spark further reflection as students work, helping students to continue making connections between their on-campus job, their college experience, and their career goals.
Program Structure and Timeline
Students participate in two to three WiGROW conversations per academic year. Within the first 45 days of hire, supervisors engage in an initial WiGROW conversation with the student-employee, sharing the concept of transferable skills and gaining an understanding of the student's goals. Thereafter, supervisors conduct one WiGROW conversation per semester with the student-employee throughout their tenure.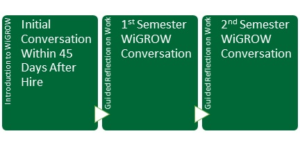 Additionally, mini-conferences and workshop series provide training and support to both supervisors and students each semester.
W
i

GROW Conversation Format
WiGROW conversations are adaptable to a variety of contexts and workplaces. Participating units and departments chose a style according their workplace and the needs of students and supervisors. The three styles of WiGROW conversations are outlined below. In each style, the supervisor who facilitates the conversation may be either a professional staff member or a student who serves in a supervisory role.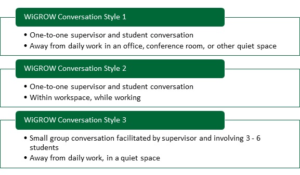 In all conversations, regardless of style, supervisors engage each student who is present in non-judgmental reflection. The conversation occurs at a dedicated time during which the students' reflection is the supervisors' main priority and focus.
W
i

GROW Conversation Questions
All WiGROW conversations provide space for students to reflect on work with the guidance of their supervisor. The following guiding questions are often used in WiGROW conversations:
Please talk about how your job has influenced your [time management skills, ability to balance your priorities, teamwork skills, etc.].
How does your experience as a student-employee connect with your [coursework, major, overall college experience]?
What were you looking for in student employment? How has your current job met this need or needs?
Please share a couple examples of things you've learned in your experience as a student-employee that you may use in your chosen profession.
WiGROW workshops are offered in mini-conference format and independently. Supervisor workshops are designed to support supervisors in their role as educators of student-employees. Student workshops are designed to support students in developing transferable skills. All students and supervisors are welcome.
Upcoming trainings can be found on the Professional Development website. Suggestions for future topics are welcome and can be sent to wigrow@ohr.wisc.edu.