UW–Madison has developed protocols for what to do when individuals working, living or learning on campus test positive for COVID-19. This includes contact tracing to notify others who may have been in close contact with a COVID-positive individual, providing necessary cleaning to workspaces and classrooms, and assisting Housing residents who must be isolated or quarantined.
University Health Services (UHS) will be the repository for all COVID-19 test results for employees working on campus, at campus facilities, and for all students. Test results for individuals who are tested at Henry Mall, Fluno Center, Holt Center, Ogg Residence Hall, or 21 N Park Street will automatically be reported to UHS.
People tested elsewhere — such as Alliant Energy Center, UW Health, an urgent care center or a doctor outside of University Health Services — should report positive test results to UHS.
To report your test results using the online form, log in to your MyUHS account and click on Messages, select New Message, and then choose COVID-19 Outside Result Reporting. Those who are unable to access the online form can send a secure email to covidresults@wisc.edu or call 608-890-0000 (you will be given prompts to follow). Additional details are available on the University Health Services website.
Individuals who test positive do not need to get tested again for three months after a positive test result.
Protocol for Positive COVID-19 Test Reporting and Notification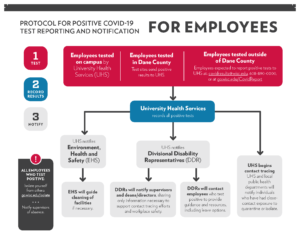 A graphical representation of the protocol for employees.