In replacement of this year's Wellness Symposium, we will be offering 31 days of CommUNITY Well-Being for the month of October. During the week of October 19, when we would have held the in-person symposium, we will be offering live sessions. Throughout the month, pre-recorded talks, resources, thought provoking reflections, and small actions will be offered. All live sessions will also be recorded for later viewing.
The university is committed to supporting every employee in being their best self while at UW–Madison. The work we do here is important and has meaning. Our students are here to learn and grow at a pivotal point in their lives, researchers are striving to find new solutions and knowledge, faculty are teaching our next generation, and patients in our hospitals are looking for the best care in hope of living a full life. Efforts to create a healthy, inclusive, and engaging environment impact not only our capability to be more engaged but also strengthen the connection we have to the UW–Madison community.
This month will help you find your energy, engagement and connection with what being your best self means to you and your community as you continue your employment at UW–Madison.
No matter where you are in your wellness journey, you'll find sessions and resources that meet your needs. You can dive into racial healing, learn how to be more mindful and resilient, cultivate more energy, eat a nutritious, balanced diet, or manage stress.
The UW–Madison CommUNITY Well-Being Month is open to all UW–Madison and UW Health employees.
This conference is hosted by Learning and Talent Development in the Office of Human Resources, working in partnership with the Department of Family Medicine and Community Health.
Beth Potter, MD, and Robin Carre, PhD, Memorial Fund Established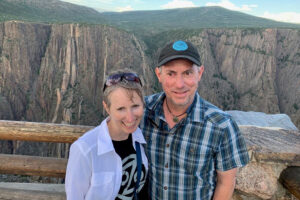 This year, we would like to offer a special dedication to the lives of Dr. Beth Potter and her husband, Robin Carre who died on March 31, 2020.
A physician at the Access Community Health Center's Wingra Family Medical Center, Dr. Potter also served as the Medical Director of Employee Health Services for UW Health from 2016-2020. She dedicated her career to the health of families and under-served communities, as well as the education of medical students and residents. In addition, she championed initiatives aimed at fostering the wellness of her health care colleagues. Dr. Potter was the catalyst for the UW Department of Family Medicine and Community Health's sponsorship and active involvement in the wellness symposium.
She also was a highly respected medical educator who taught and mentored hundreds of medical students and family medicine residents, many of whom went on to join the departmental faculty. Her most recent academic work focused on incorporating wellness and resiliency into education, leadership training and in the workplace. Potter is remembered by students and residents as a kind mentor who worked to instill the missions of education, research, patient care, and service to society. She led by example, showing with brilliance how to put these ideals into action.
Robin Carre, PhD had decades of experience as an educator and coach. He was an Adjunct Professor of History at Viterbo University and was the Coaching Director at Regent Soccer Club. He was an independent educational consultant who guided numerous high school students and their families through the college application process.
Beth and Robin embodied a holistic, multidimensional vision of wellness, incorporating service to society and advocacy in the mission to improve health and well-being for everyone. They inspired their beloved three children, their students, their colleagues, their family and friends, and all those they encountered with their words, actions, and way of being in this world.
Read More:
Beth Potter, MD, and Robin Carre, PhD, Memorial Fund Established
Every Moment Matters – Memorial
49th Day – Honoring Beth