"Her Story: The Power of Unleashing our Inner Beginning"
Gloria Reyes has committed her career to public service, recently serving as Deputy Mayor to Public Safety, Civil Rights, Community Services, Public Health, and City Attorneys Office.  Gloria was responsible for policy development, management and community outreach.  Gloria advised the Mayor on political and policy implications.  As Deputy Mayor to Public Safety she was responsible for administrative priorities in public safety disciplines.
In 2015, the Mayor appointed Gloria as Interim Director for the Department of Civil Rights where she lead and managed the Affirmative Action Division, Equal Opportunities Division and Racial Equity Social Justice Initiative and lead the successful transition to a new Civil Rights Director.
Gloria has also served as Detective for the City of Madison Police Department, serving the City of Madison residents for 12.5 years in this capacity.  Prior to her promotion to Detective, Gloria worked as a neighborhood officer for the South Madison community where she worked with residents, neighborhood associations, businesses, service agencies and community police teams to find innovative strategies to keep community safe.  Gloria is founder of Amigos en Azul (Friends in Blue) comprised of officers dedicated to dissolving cultural barriers and building trust between the City of Madison Police Department and the Latino Community.  Gloria served as Peer Support Officer, offering assistance to officers who have been exposed to critical incidents and is a member of the Child Abduction Response Team.  She served as a member of the Unconscious Bias group, a group of officers who train Law Enforcement on Cultural Identity and Bias.  Gloria began and lead the Diversity/Inclusion team comprised of a diverse group of employees to review the Madison Police Departments current diversity efforts and to address real or perceived barriers in employment, development or promotional opportunities.
Gloria also served as Detective in the Special Investigations Unit.  The unit utilizes the focused deterrence model aimed at reducing violent crime.  This model identifies and targets offenders based on past history, while working with the Community Against Violence Team, offering resources to help offenders turn their lives around.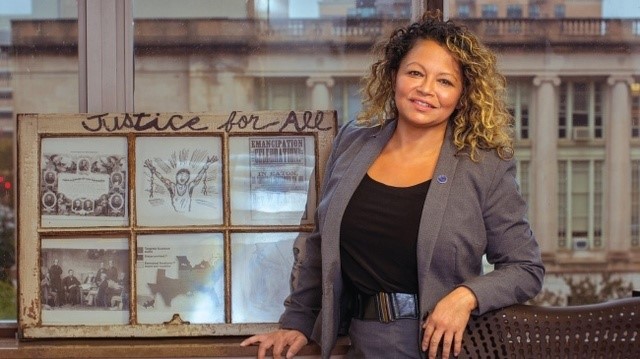 Gloria's passion for serving her community goes well beyond her normal work duties.  She has served as President of Centro Hispano of Dane County Board of Directors where she was committed to working with the Executive Director, Board and Staff to ensure the mission and vision of Centro Hispano is aligned with the needs of the community.  When she was not acting in her official capacity as President, you will find her teaching a class on Identity to youth who participate in the COMVIDA youth program at Centro Hispano or in a Juventud classroom in one of Madison School District Middle Schools.
Prior to her Law Enforcement career she worked as an Investigator for the Wisconsin State Public Defenders Office and also worked for the Wisconsin Department of Justice as the Director for the Statewide Prosecutor Education & Training program.
Gloria is a long time resident of Madison attending Madison East High School and the University of Wisconsin Madison where she received a Bachelor's Degree in Behavioral Science & Law and Criminal Justice.  She completed the National Association of Chiefs of Police Association Leadership in Police Organization training. She has completed her Masters in Public Administration with a focus in Security Management and certification in Organizational Management.
In April of 2018, Gloria pursued her political aspirations and was elected to the Madison School Board as the first Latina to serve in this role and is now currently serving as President of the Madison School Board. Gloria is co-founder and president of Adelante, a political action group aimed to prepare and support candidates of color to run for office while also building the capacity of communities of color to learn about the political process.