2023 Conference
This is an accordion element with a series of buttons that open and close related content panels.
Keynote
How to Find Work/Life Balance When There is None
Your day begins with over 100 new emails, the phone won't stop ringing, and you've lost count of how many meetings you have to attend. How do you deal with it all – day after day! How do you find the strength to face the challenges life throws your way and keep your sanity in the process?
Through real-life stories and experiences shared by UW employees and conference attendees, you will learn how to see your challenges differently, grow from them, and discover a strength inside yourself that you didn't even know existed. During this presentation, you will discover techniques you can start using today to help you lead a less stressful life, no matter what may come your way.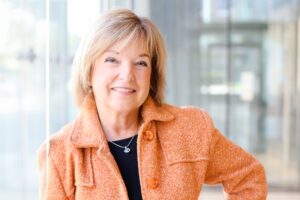 Nancy Depcik, Unshakable Success™
Knowing how to be resilient during times of change and adversity can lead you to greater success and happiness. Nancy Depcik brings over twenty years of speaking experience with a focus on leadership, resiliency and tenacity. She has empowered organizations to lead more effectively, foster positivity and communicate more clearly.
As a professional Keynote Speaker and Communication Skills Coach, Nancy has delivered presentations to Fortune 500 companies and at numerous conferences and conventions. She has been featured in several magazines, including the Huffington Post. Nancy is currently an adjunct professor at Madison College in Madison, Wisconsin teaching Effective Communication and Public Speaking Skills. Her unique blend of humor, enthusiasm and connection with the audience landed her in the top 1% of speakers in an International Speech Contest in Washington D.C. where over 30,000 speakers competed. In her TEDx speech, she shares the one word that can change your life.
With Nancy's unique blend of high energy and contagious enthusiasm, she captivates her audience with her message. They will walk away with techniques they can start using today, leading them to their own Unshakable Success™.
Concurrent Sessions