Joseph F. Kauffman (1921–2006) was a national expert in college and university leadership. At UW–Madison, he provided counsel to Chancellors John Wiley, David Ward, Donna E. Shalala, and to countless university administrators and staff members at all levels. He served the UW System as executive vice president from 1980 to 1983 and contributed significantly to the development of today's UW–Madison faculty and academic staff governance structure. He also was in great demand as a consultant at other institutions.
His acute perceptions, objectivity, fairness, and common good sense were qualities valued not only by administrators, faculty and staff, but also by generations of UW–Madison students.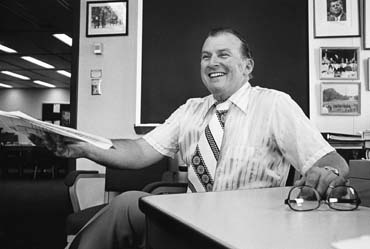 Kauffman joined the UW–Madison faculty as Dean of Student Affairs in 1965 and professor of counseling and behavioral studies in the School of Education. He held those positions until 1968, when he left to become president of Rhode Island College in Providence. He returned to UW–Madison in 1973 as a professor in the Department of Educational Administration (now Educational Leadership and Policy Analysis).
During his initial period of service at the UW–Madison, Kauffman was heavily involved in dealing with turbulent campus protests against the Vietnam War. Throughout this difficult period he provided a steadfast presence in dealing with the various crises.
The son of immigrant parents who settled in Boston, Kauffman had no real prospect for pursuing his education beyond high school. In the late 1930s and early 1940s he became a big-band crooner. That career was put on hold with the advent of World War II. He enlisted in the U.S. Army in 1942 and served with the 85th Infantry Division in North Africa and Italy.
Like many of his generation, his life was transformed by the opportunity to pursue a college education through the G.I. Bill. He utilized the opportunity to the fullest, earning a bachelor's degree from the University of Denver, a master's in sociology from Northwestern University, and a doctorate in education from Boston University.
In the early 1960s Kauffman was selected to serve as a member of the Kennedy Administration in Washington, D.C. He helped R. Sargent Shriver establish the Peace Corps and served as its first training director from 1961 to 1963. Although he retired from the UW–Madison in 1987, Kauffman continued to have a significant impact on the shaping of the university through the Joseph F. Kauffman Administrative Development Program. The program provides an opportunity for current UW–Madison administrators, faculty and staff, to meet informally and discuss the complex nature and culture of the university and the challenges it faces in our contemporary society.
"It is my belief that human freedom is inextricably tied to the purposes of higher education—that one of higher education's functions is to encourage and to celebrate the potential of the human spirit. What higher education is all about relates to the human condition itself."

Joseph F. Kauffman
Based on his personal experience, Kauffman was a tireless champion of the benefits and influence of higher education. He summed up his conviction in a 1980 study on the university presidency published by the American Council on Education.
"It is my belief," he wrote, "that human freedom is inextricably tied to the purposes of higher education—that one of higher education's functions is to encourage and to celebrate the potential of the human spirit. What higher education is all about relates to the human condition itself."