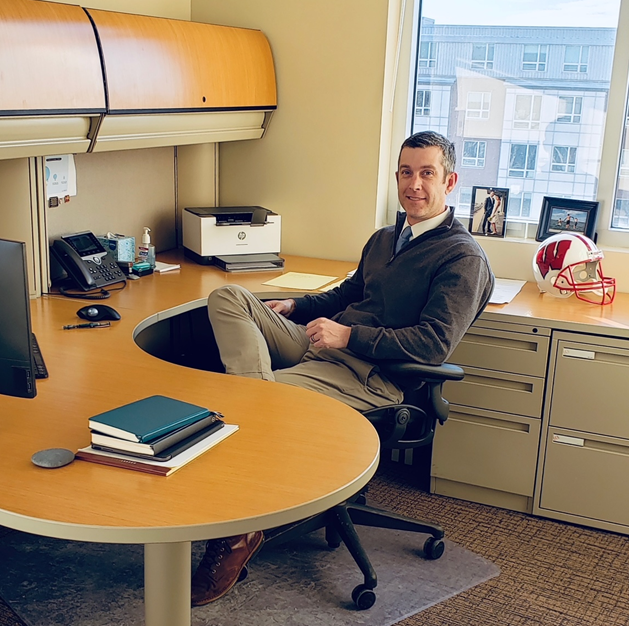 I am truly humbled to be appointed as the Interim Chief Human Resources Officer at UW–Madison. Beginning this new role reminds me of my first day, over 11 years ago. I came to the university because I believed that by being a part of UW–Madison, I could play a role in the exceptional teaching, research and outreach that our institution is recognized for—throughout Wisconsin, the nation, and internationally. I quickly learned how significant a part our human resources community has in enabling our campus to achieve exceptional results, and ultimately to change the world. I believed then, as I do now, that our human resource professionals make positive impacts in the lives of our faculty, staff and students on a daily basis. These same feelings continue to drive me today.
I have been fortunate to work closely with many of our campus HR leaders, both within OHR as well as across campus, in a variety of different roles over the past decade. While we have achieved great things over the past several years—including the successful implementation of the Title and Total Compensation Project (TTC), Single Payroll, not to mention navigating the ongoing pandemic—I am also eager to continue our progress. Higher education, human resources, and our evolving labor landscape require innovative solutions to address these critical needs. Initiatives such as the Administrative Transformation Program (ATP) will help to address some of these demands; however, we will need to continue to be responsive to our campus's needs as our environment evolves and we evolve with it.
Over the coming year, my priorities include building relationships with campus colleagues and ensuring that OHR is meeting our campus's strategic needs. We must also continue to make progress on critical initiatives currently in progress—including the stabilization of TTC, continuing to support ATP, and ongoing responsiveness to our campus' needs during the pandemic. Additionally, we need to continue to evolve our efforts directed at supporting employee recruitment and retention, particularly as it relates to creating an inclusive, diverse and equitable workplace.
Clarity of purpose and sense of mission will guide us in these efforts. I believe that our best work happens when each of us finds meaning in our work, recognizing that what we do improves people's lives. I am eager to align our efforts to guide us toward this goal.
I am looking forward to working closely with each of you, as well as to establishing new relationships with others of you who I haven't yet had an opportunity to work with. As we start a new phase of our journey together, I want to thank the HR community for your support and partnership. I believe that our HR community has a strong foundation, including exceptional HR leaders within OHR and across campus. I look forward to the great things that lie ahead.
On, Wisconsin!
Patrick