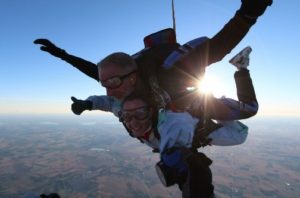 Position: Director of International Faculty and Staff Services (IFSS)
As the Director of IFSS, Jennie Taylor is responsible for overseeing the UW – Madison campus non-student immigration practices. She and her team of four, advise University departments on processes and best practices regarding immigration and employee verifications.
Location: Office of Human Resources in 21 North Park.
Education:B.A. in Criminal Justice and Psychology from the University of Wisconsin-Platteville.
J.D. from the University of Wisconsin Law School.
How did you get into working in international services?
I grew up in Sun Prairie, Wisconsin. After college, I moved to Vermont and then back to Wisconsin. I started my state employment with the Department of Natural Resources. After a few other appointments with different state agencies, I worked for the University of Wisconsin System Administration's Office of General Counsel. While there, the work I was doing required me to better understand immigration processes and policies. I eventually came to work on the UW–Madison campus in the Academic Personnel Office working with employees in H-1Bs status. I stayed in this role for about five years and then applied and was promoted to the Director.
What excites you most about working on the UW–Madison campus?
I get the opportunity to work and network with people across the campus as well as with colleagues externally in the community. I have the opportunity to see the best of each college and division since I am not tied to one unit of division. I like that there is so much variety to my job. Working on the Madison campus provides a lot of energy and change that is constantly happening.
This job also provides me a lot of support and flexibility, in addition to trying to maintain a sense of me.
What's happening at IFSS?
The IFSS office is continuing its work on immigration and I-9 process training and assistance across the campus. Ever since I assumed the role of Director, I have been working to design an office that supports the needs of the campus. Outreach and education are important. I want to remove the stigma and the unknown about immigration. We offer a variety of trainings to support these efforts, from basic and advanced immigration training to complex I-9 issues.
We will also be presenting at the Human Resources conference this December and participating in the HR CoP sponsored brown bag lunches that will be starting later this Fall.
Advice for HR Professionals
If there was any advice I could give regarding in my area of practice, it would be to ask questions…bring a natural curiosity to your work, keep learning new things and new ways to operate. Because it's been done this way for years or this is how you did it last time does not mean it's the best or the only way to do it now. Continuous learning and growth is needed to be successful. Even within my office, we are working towards becoming more cross trained. We want to be more collaborative and consultative with colleagues across campus.
Favorite thing about Madison?
I love the four seasons and having family close by. I never get bored and the variety of activities, food, options are great.
Extracurricular Activities
I am a family oriented person and spend a lot of time focusing on my family and my two kids. I am involved in various external committees and boards too.
In my 'spare' time, I am an avid volleyball player and I will be doing a Tough Mudder again soon.