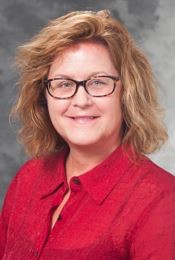 Position: Assistant Vice Chancellor
Working title: Director of Human Resources
As the Director of Human Resources, Julie has oversight of a wide range of functions that includes budget, human resources, and payroll. As part of the leadership team, Julie provides advice and counsel to senior leadership on various human resource matters. Julie directs a team of 5 human resource professionals who strategically partner with 18 centers across the division.
Location: Office of the Vice Chancellor for Research and Graduate Education (OVCRGE).
Education: Bachelor of Arts, Sociology with a certificate in criminal justice.
How did you get into working in a human resources position?
While I was employed as a customer service representative outside the University, a coworker recommended that I research and possibly apply for a human resources position located on the UW–Madison campus. He thought that I had a knack for working with people and solved problems creatively. Even though I had worked with a variety of people on a daily basis, I had never thought of applying my skills to the field of human resources.
I've been with the University since 1990 and in my current role since July 2004.
What excites you most about working on the UW–Madison campus?
I find problem solving enjoyable. My position allows me the flexibility and opportunity to do so on a daily basis.
In addition, I also enjoy working with a diverse community. There are many people with innovative ideas on campus and it's great to be a part of that culture. My team is an example of putting creative ideas into viable solutions. For example, the OVCRGE onboarding process was created by our team and provides a cutting-edge IT tool that allows both consistency and flexibility to manage new employee hires.
What's happening at OVRCGE?
We're incorporating a lot of new technology into budget, HR, and payroll functions. Our hope is to minimize the time it takes to complete the tasks that are currently manual in order to allow us more time to focus on things that are more critical. For example, we are currently working on a new way to automate FMLA requests. This will reduce the overall time it takes to process the request as well as provide a means to track them. We are working on this product and once it is complete, we will share with others within the HR community.
Advice for HR Professionals
Superior interpersonal skills are a must in the HR field. You can always teach employees to do the transactional work, but it takes an exceptional person to build and maintain relationships. Most often, this is the type of skill that is not learned in a classroom.
How do you stay current in HR?
I read various articles and books to find insight on current topics in HR. I also belong to several HR professional organizations and attend seminars and workshops. In addition, I also network with other peers, both on and off campus, in HR regarding current trends. I find that access to the combination of these resources to be extremely beneficial in my position.
What is your biggest achievement?
Work life balance is hard to achieve. I have strived to maintain an equal balance between raising a family and all the demands that work requires. This includes working long hours (including many weekends), as well as carving out time for family functions. I work hard to ensure that this balance not only works for me, but my employees as well.
Extracurricular Activities
I enjoy spending time with my family and friends. I'm a mother of a 16-year-old, so we spend time supporting him in various sporting events. I also love spending time with my husband. One of his hobbies is to race his 1990 Mazda Miata. We share a passion for racing and I consider myself to part of the pit crew!
We also like traveling and visiting different places in the U.S. We are especially excited about visiting national parks when we travel to different states.