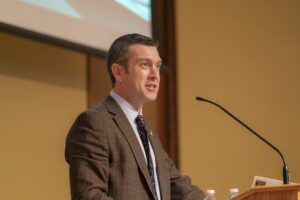 On January 1, 2023, Patrick Sheehan began his new role as associate vice chancellor and chief human resources officer at the University of Wisconsin–Madison. Patrick served as the interim CHRO since December 2021.
Prior to serving in the interim role, Sheehan was the human resources strategy lead for UW–Madison's Administrative Transformation Program (ATP). He also previously worked as the university's director of talent acquisition and retention, the director of workforce relations, and the employment relations chief.
Patrick earned an undergraduate degree in philosophy from Santa Clara University, and his Juris Doctorate (JD) and MBA from Willamette University, where he specialized in employment law and human resources management.  He has been with UW–Madison for almost 13 years.
We sat down with Patrick to learn more about his plans and perspectives as he begins his first year as CHRO.
Patrick, what will be your first priorities as CHRO?
First, I would like to acknowledge that there are several priorities right now, including some large and pathbreaking initiatives. It would be fair to ask how I can put forth such an ambitious agenda. The answer is that we have the expertise, commitment, and partnerships in place to tackle these challenges — within OHR, among the campuswide HR community, and with other stakeholders and partners. We also have the full support of campus leadership. These are collective undertakings. I believe we're well-positioned to tackle these challenges and succeed.
Here are my five priorities as I begin my first year as CHRO.
We will engage the HR community to support UW-Madison's successful transition to Workday, the enterprise resource planning (ERP) software that will replace the Human Resource System (HRS) and Shared Financial System (SFS) across the UW System. This transition will require close partnerships across OHR, the campus HR community, numerous campus stakeholders, Administration Innovation and Planning (AIP) and Administration Transformation Operating Model (ATOM), and of course, the ATP team.
We will identify and pursue areas where OHR and the Administrative Services Unit (ASU) can provide additional centralized support to campus. This support will enable campus units to reduce transactional responsibilities or perform them more efficiently.
We will continue to embed elements of the Title and Total Compensation project into our campus culture. The next steps are to develop learning and training resources, develop and implement a long-term compensation strategy for campus, and develop competencies, knowledge, and skills for positions to support employee career growth and development.
As part of our ongoing talent acquisition efforts, we're developing a new unit in OHR called Talent Pathways. Talent Pathways will support the campus's staffing needs and help build knowledge gaps by growing the current Job Rotation Program, developing new programs, and assisting with more deliberate outreach and relationship-building to develop applicant pipelines. These efforts will help us to address current staffing challenges and the impact they have on the university.
Career coaching for employees will be another area of focus. The career coaching function for employees is now part of OHR, and we plan to expand these services to meet the ongoing needs for career growth and career development among employees. This initiative can help us retain and develop the talent pool that will take UW-Madison into the future.
What have you learned during your time as Interim Chief Human Resources Officer that you will carry with you into your new role?
I've observed that within OHR, we have many projects in motion at any given time, and many of them are cross-functional. We're working on a portfolio management approach that will bring transparency to these projects for OHR leadership, increase cross-functional awareness and information sharing, and provide a cohesive look at all project work. This will also improve our ability to align resources with organizational priorities and enhance our ability to drive projects towards milestones and completion dates.
I believe that communicating and collaborating with the wider campus community — not just the HR community — is essential. We need to highlight the exceptional things we are accomplishing as an HR community and point out the benefits to campus. In addition, we should be providing more communications in advance regarding efforts and initiatives that are to come, including the long-term road map for OHR and the campus.
I've had an opportunity to see firsthand the value of dialogue with the campuswide HR community. These discussions improve the effectiveness, relevance, and success of our work in OHR immeasurably. We'll be identifying new avenues for collaboration and discussion moving forward. Stay tuned for details.
My time as human resources strategy lead on the Administrative Transformation Program team will also continue to inform my work as we support the implementation of Workday and other aspects of ATP. One of the things I appreciate most about ATP is that it puts people and processes first—and doesn't center primarily around the technology. As human resources professionals, we strengthen the organization as a whole by empowering its people — and ultimately, that is what ATP will do. The HR community has a key role to play in the implementation of ATP, and that is exciting.
Is there anything else you'd like to add?
I would like to thank the HR community for the support and partnership you continue to demonstrate as we face new challenges and opportunities together. We contribute in significant ways that improve the employee experience, attract and develop talent, and enhance efficiency. None of this would be possible without the collaborative spirit, honesty, and expertise of our HR partners. This is truly an exceptional community.
I'm looking forward to working closely with every member of the HR community, and I'm truly excited about the future. Our HR community has already demonstrated strong leadership across campus. As 2023 begins, we have new opportunities to have a positive impact on campus operations and all employees.
Please feel free to reach out to me at any time to share your ideas, thoughts, or ways that OHR can support you.
On, Wisconsin!