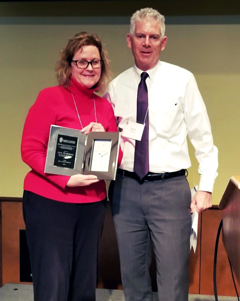 In October, Interim Chief Human Resources Officer Mark Walters invited the UW–Madison HR Community and all UW–Madison managers and supervisors (via the MANAGE newsletter) to nominate HR Professionals who meet the criteria for UW–Madison's 2018 HR Business Partner Award.
Nominators wrote detailed, thoughtful, inspiring letters that highlighted stories of the impact that our nominees have had on the mission of their units, and which demonstrate outstanding relationship building, problem solving and customer care among this group of HR professionals.
Our 20 nominees included:
Ashley Royston from University Housing
Bonnie Lane from the LaFollette School of Public Affairs, College of Letters and Science
Caleb Georgeson from University Housing
Char Horsfall from the Department of Chemistry, College of Letters and Science
Denise Westphal from the Arboretum, Office of the Vice Chancellor for Research and Graduate Education
Elizabeth Marsh from the School of Medicine and Public Health—nominated both in 2017 and 2018!
Jenni Regan from the School of Pharmacy
Jenny Kvistad from the Division of Information Technology
Julie Karpelenia from the Office of the Vice Chancellor for Research and Graduate Education
Justin Boehm from the Law School
Maureen Maletta from the School of Medicine and Public Health
Meghna Shah from the Office of Human Resources, Shared Services
Nancy Graff Schultz from General Library Services
Patrick Hanson from the School of Medicine and Public Health
Raeann Herbrand from University Housing
Samantha Noordhoek from the Primate Research Center, Office of the Vice Chancellor for Research and Graduate Education
Taylor Spitzig from the School of Medicine and Public Health
Todd Schry from the College of Agricultural and Life Sciences—nominated both in 2017 and 2018!
Tracey Berman from the University Police Department
Tricia Droes from the College of Engineering
The evaluators, including last year's winner, Ann Bradshaw, made a consensus-based decision based on the letters provided. They used a scoring matrix, and matched examples in nomination letters to the 15 award criteria across four categories:
Works to ensure the success of one's organization at large
Demonstrates strategic thinking
Engages in process improvement
Demonstrates "partnership" attitudes
The winner of the 2018 award is Julie Karpelenia, Assistant Vice Chancellor in the Office of the Vice Chancellor for Research and Graduate Education. Her nominators were Petra Schroeder, Associate Vice Chancellor for Administration, who has worked with Julie for the past 25 years, and William Karpus, Dean of the Graduate School.
Some of what stood out in Petra and Bill's letters included the following:
Julie is an active partner with others in her work—across all campus units, not just her own—working to ensure not only the success of the OVCRGE but of the entire University. "Although Julie has been in one unit [the Office of the Vice Chancellor for Research and Graduate Education] for her entire career, she has helped and supported people and activities all across the University."
Julie is an extraordinary strategic thinker and problem solver who provides counsel and is the university point person regarding graduate assistant appointment levels—including waivers of policy. She co-chairs the committee that seeks "to move old TA contract language into a policies document with utility to current graduate student"—and provides consistent "outstanding leadership" in the face of "controversies and struggles." Julie is sensitive to unintended consequences—particularly to those that might harm students.
Julie engages in process improvement. "The PMDP Tool used across campus was Julie's creation" in innovative collaboration and partnership with her division's IT staff.
Julie has demonstrated commitment to community building across HR on campus. Several years ago, Julie partnered with Carol Hillmer to form what we now refer to as a 'community of practice' to partner with academic units across campus to navigate the initiatives of HR Design. When OHR's HR CoP Office presented at the annual CUPA-HR Conference in St. Louis in 2017, Julie (along with Carol Hillmer) graciously agreed to be video recorded —on short notice— to offer testimony to the importance of communities of practice in HR.
Julie fully demonstrates partnership attitudes through her graciousness and commitment to excellence. As her nominees stated: "The UW–Madison approach to graduate education is world renown and Julie is a critical member of the team that makes that happen." And: She is a willing helper, as well as a leader"
Julie's response, when informed that she'd been nominated, exemplified the humility that this award seeks: "There are so many wonderful nominees. It is nice to see all that I am in awesome company!"
We celebrate Julie Karpelenia's contributions to the University, as this year's HR Business Partner Award winner.
Additionally, we acknowledge a wide range of scope of responsibilities—which may prompt us to consider offering multiple awards next year.