The jobs website is automatically integrated with and/or scraped by external job boards. UW–Madison partners with several vendors to scrape the jobs website, however, there may be additional third-party sites that scrape. Third-party scraping sites change often and cannot be controlled or manipulated.
For those vendors we have partnerships with, jobs from the jobs website will scrape to appear as they do on the jobs website and update automatically if changes are made.
Example Posting on jobs.wisc.edu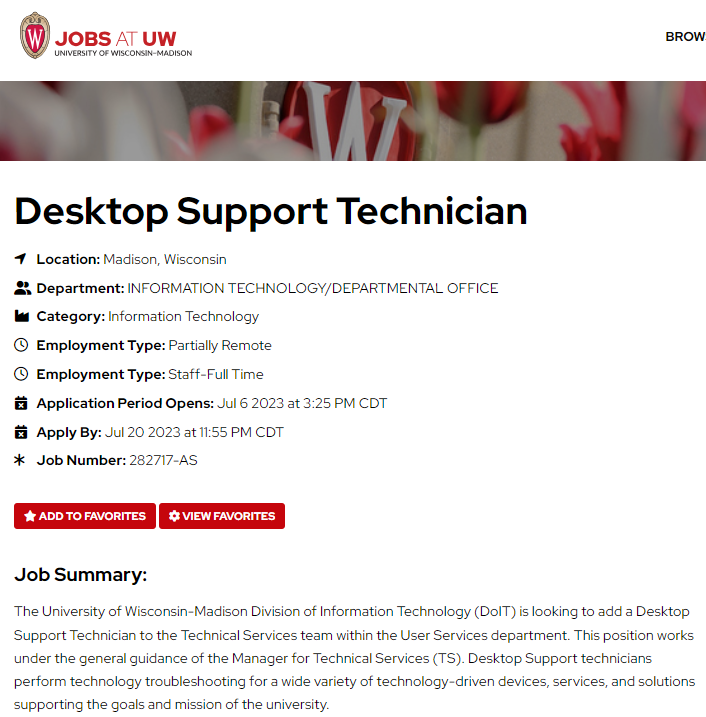 Scraped Posting on Indeed.com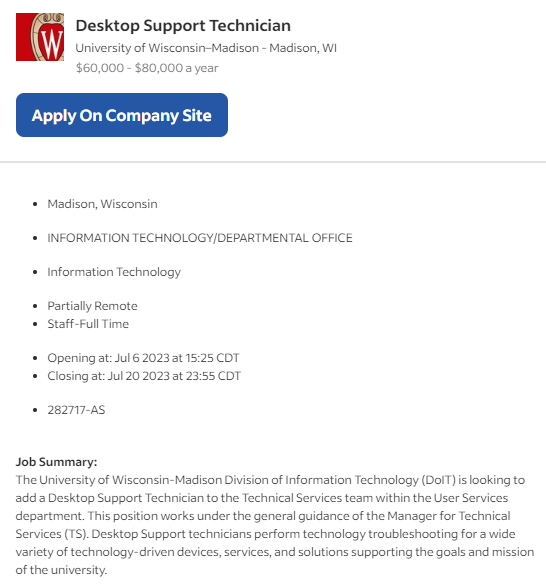 Current Partnerships
UW–Madison has integrations and/or scraping agreements with the following vendors:
Higher Education Recruitment Consortium (HERC)
The Chronicle of Higher Education
Department of Labor Compliance
Permanent Residency
The Department of Labor accepts electronic or web-based advertisements that are placed in national professional journals.  A print advertisement is not required so long as the following conditions are met:
The advertisement for the job opportunity for which certification is sought is posted for at least 30 calendar days in the journal online;
The documentation to show that the advertisement was in an electronic or web-based national professional journal must include evidence of the start and end dates of the advertisement; and
A full advertisement must be placed in the journal.  A full ad includes the title, duties and minimum education, training and experience requirements as stated in the position description.
The Chronicle of Higher Education qualifies as a national journal to meet this requirement. For questions on compliance with the Department of Labor regulations to file a permanent residency application for a full-time permanent teaching position, contact Jennie Taylor from International Faculty and Staff Services (IFSS) at ifss@wisc.edu.
Diversity Advertising
Advertising with diverse sources supports the recruitment of top diverse talent and helps to ensure affirmative action compliance in all open positions at UW–Madison.
This intentional advertising also aligns with the goals of the campus Diversity Framework to improve campus diversity planning and improve institutional access through effective recruitment of diverse students, faculty, staff, and through effective relationship building with the wider community.
Advertising sources may include key national publications, as well as regional and local networks that serve audiences including people of color, women, people with disabilities, veterans, and the LGBTQ+ community.
We have compiled the following information to help you connect with diverse groups nationally and locally as well as highlight our vendor partnerships. If you have recommendations on community partners or organizations to add to the list, please contact uwjobs@wisc.edu.
National Publications
All jobs listed on the jobs website are automatically posted to these national publications, free of charge to schools, colleges, and divisions, and are on the Recruitment Effort Plan (REP) tab in JEMS. These partnerships are intentional due to their focus on diversity and affirmative action compliance. As such, they are also top sources for applicants at UW–Madison.
LinkedIn
Indeed
Higher Education Recruitment Consortium (HERC)
The Chronicle of Higher Education
Local Partners and Community Organizations
You may also want to consider the following local partners and community organizations as part of your outreach efforts:
United Way of Dane County
Urban League of Greater Madison
City of Madison
Madison Gas & Electric
Department of Civil Rights
Division of Vocational Rehabilitation
East Madison Community Center
Goodman Community Center
Literacy Network
Center for Resilient Cities
Operation Fresh Start
Freedom Inc.
Latino Professionals Association
Jewish Social Services
Nehemiah Community Development Corporation
Dane County Housing Authority
MATC
Lussier Community Education Center
Madison Public Library
Neway Directions Inc
OutReach LGBTQ+ Community Center
Department of Veterans Affairs
State of WI Employment Relations Office
Tech Connect
WI Community Action Program Association
Department of Workforce Development
Latino Support Network of Dane County
UNIDOS Wisconsin
Madison School Districts
Latino Academy of Workforce Development
Centro Hispano
WI Council on Children and Families
Additional Paid Advertisements Opportunities
If you wish to place additional, paid-for advertisements, the following print, radio, and media publications are recommended. These publications include local, national, international, higher-ed, and diversity-focused organizations: