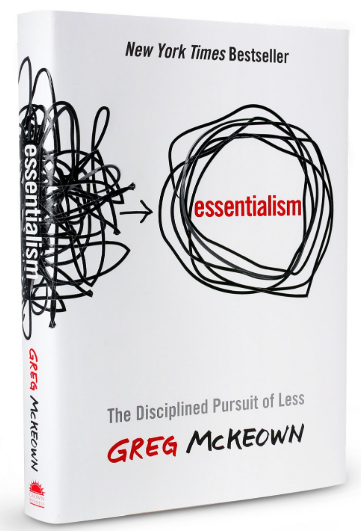 In the "Execution" Module of the HR Competencies Cohort, we work with an excerpt of Essentialism: The Disciplined Pursuit of Less, Greg McKeown's 2014 New York Times Bestseller that proposes a discipline for discerning what is 'absolutely essential'. McKeown sums it up in this way: If you don't prioritize your life, someone else will.
Still, it's hard. Much of what we must prioritize in our HR work is not self-selected.
Our ongoing challenges in HR were exemplified by one of the more significant sessions at our recent 2019 HR@UW Conference, which was "Managing Priorities," delivered by Jenny Faust, Director of the Office of Strategic Consulting. In her session, Faust offered fantastic strategies for managing a set of time management and prioritization problems that we all face.
All this focus on time management begs the question: is it time to start thinking about time management in an entirely different way?
In the article, Why time management is ruining our lives, New York-based Guardian writer Oliver Burkeman suggests, "The quest for increased personal productivity… is a dominant motif of our age…. And yet the truth is that more often than not, techniques designed to enhance one's personal productivity seem to exacerbate the very anxieties they were meant to allay."
Burkeman interviewed Tom DeMarco, a 'minor legend' in software engineering, who offered the following observation:
"The best companies I visited, all through the years, were never very hurried. Maybe they used pressure from time to time, as a sort of amusing side-effect. But it was never a constant. Because you don't get creativity for free.… You need people to be able to sit back, put their feet up, and think. Manual work can be speeded up, at least to a certain extent, by increasing the time pressure on workers. But good ideas do not emerge more rapidly when people feel under the gun – if anything, the good ideas dry up."
Burkeman's advice?
Avoid thinking about time in ways that promote clock-watching. See the research regarding the effect of perceived time pressure affects decision-making.
Lighten up on the focus on efficiency. "If there is an exclusive focus on using the staff's time as efficiently as possible, the result will be a department too busy to accommodate unpredictable [events and newly emerging priorities]."
Tread carefully with cost-cutting exercises designed to maximize efficiency. "An organization that can accelerate but not change direction is like a car that can speed up but not steer."
Burkeman cautions: "The more you can convince yourself that you need never make difficult choices – because there will be enough time for everything – the less you will feel obliged to ask yourself whether the life you are choosing is the right one."
Which brings us back to Essentialism. We need to eliminate the inessentials. Common traps that lead us down the hole of inessentials include:
Too many choices (we have to manage ourselves, "and society is totally unprepared for it")
Too much social pressure ("the strength and number of outside influences on our decisions," which arises out of hyper-connectedness); and
The idea that we can "have it all" ("everyone alive today is infected with it").
He tells the story of the origin of the word, priority: "It came into the English language in the 1400's. It was singular. …it stayed singular for the next five hundred years." Consider that if many things are a priority, then nothing is.
To explore your essential priorities for 2019, check out the book, Essentialism, which is free to borrow through the UW Library.