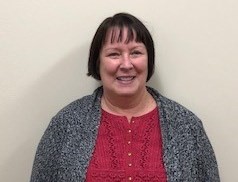 What is your background?
I have lived in Wisconsin for 30 years. I grew up in Indiana and have a bachelor's degree from Indiana State University and a master's degree from Ball State University in Mathematics Education. I had the opportunity to teach high school in Indiana before moving to Wisconsin.
Prior to this job, I worked with the Professional Development team at the Service Center. When I joined that team in 2013, we were part of UW-Madison. Later that year, the Service Center became part of UW System.
During my time at the Service Center, our team was responsible for the HRS credentialing program. I supported the design, development and implementation of training for the human resources, benefits and funding modules.
What interests you about this field?
Being in adult education combines so many of the things I love: lifelong learning, helping people, meeting new people, and problem solving. Every day is an opportunity to learn something new and to improve in some way!
My background coupled with my interests makes the opportunity to work with this diverse community a great challenge.
What are you looking forward to in the next few months in your role?
I'm looking forward to meeting people and finding out what challenges they are facing. I would like to continue supporting and collaborating with subject matter experts and colleagues across campus.