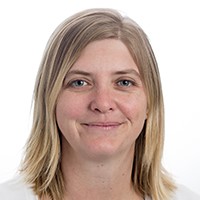 What is your background?
Originally from Canada, eh?!, my family and I moved to Madison six and a half years ago, as my partner started a position as assistant professor in the Communication Arts department at UW-Madison. I spent most of my career working in the big cities of central Canada (Toronto and Montreal), but have also lived in Vancouver and went to school at Queen's University in Kingston, ON, where I earned a bachelor's degree in Communications.
I started my career in advertising, where I was a client services executive, working with clients in the pharmaceutical, retail, and beverages industries. After spending 8 years creating advertising strategy, managing client budgets and timelines, and living the high life of doing all night TV shoots in shopping malls, it was a time for change for me. I started in HR at a creative agency in Canada, Sid Lee, where I was responsible primarily for recruitment, but also creating employee training opportunities. Upon moving to Madison, I took on the role of HR Manager at the Division of Continuing Studies, here at UW-Madison. I was the first and only HR representative at DCS until recently and was responsible for establishing and centralizing all HR procedures and processes for the Division.
In 2016 I earned a Life Coaching certificate from UW-Madison and was able to apply my coaching and facilitation skills as a co-facilitator for the HR competencies program for one of the SMPH cohorts last year.
Why does this field interest you?
My interests in HR stems from my desire to help others. As a client services executive, I never cared about the products that I was selling, but I had a passion to serve my clients, as well as work with others to create and innovate. I felt that HR was the right place for me because I could focus on people- from finding the best talent to retaining them. Over the years my interests in facilitation, training and development grew as I had more opportunities to do these things in my work. When this opportunity arose in the HR CoP office, I saw it as an opportunity to bring together my HR knowledge and expertise with my desire to focus on the people performing these duties and help them grow and develop.
What will be the most challenging part of your job?
Knowing that we can't do it all right away! I understand that there are a lot of campus needs, but they all can't be met right away. So, while prioritizing will be important, knowing that we can't do it all right away will be challenging.
What are you looking forward to in the next few months in your role?
Connecting! Connecting with the broader campus HR community to better understand their needs as well as collaborating with the community to find ways, perhaps through training or CoP's, to best meet their needs.