This month we have the pleasure of learning more about the Compensation Center of Excellence (CCoE) Team within the Office of Human Resources (OHR). CCoE was founded in 2022 to provide strategic consultation to units across campus, evaluate market data, build tools for the HR community, and review compensation practices.
The mission of the Compensation Center of Excellence (CCoE) in the Office of Human Resources is to lead compensation and classification strategies at UW–Madison so we continue to be an institution of choice and ensure the university remains a competitive market-informed employer. Its vision is to empower campus partners through strategic consultation to make data-driven classification and compensation decisions.
We asked Alisha Arnold, Director of CCoE, to share what the team is working on and to introduce team members.
What are some of the things that the Compensation Center of Excellence (CCoE) Team has worked on to date—and what does the team expect to work on in the future?
There are two sub-teams within CCoE: Compensation Administration (CA) and Compensation Strategy (CS).  These teams support the work taking place within CCoE. CA serves as consultants to campus HR professionals and other campus stakeholders for compensation-related policies, procedures, and best practices. CS develops, implements, and executes the university's long-term compensation strategy.
A few strategic priorities the CCoE Team will be working on in the future include:
ATP Readiness
Deepening relationships, collaboration, and communication
Provision of training opportunities for our campus partners regarding title classification, compensation, and delegation
SJD Library enhancement
Enhanced compensation support, strategy, and consultation
How HR professionals at UW–Madison can utilize the unique services of the CCoE team?
CCoE is here to help consult with divisional on any title and compensation needs you might have. [If you are a departmental HR professional, please contact your divisional office.] In our ever-changing environment, CCoE is committed to staying abreast of market data and collaborating with stakeholders to find creative solutions to meet their needs.
What can you tell us about the new team?
In our evolving HR landscape, the members of the CCoE team are committed to supporting the UW–Madison campus community. Their goal is to pursue excellence while also exploring strategic initiatives that support meaningful and impactful change. I'm thrilled to have them introduce themselves: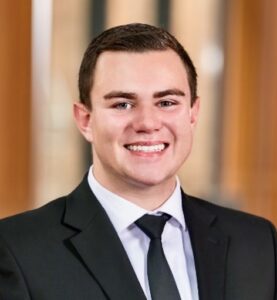 Brock Doemel, HR Generalist
I joined UW–Madison in July as a rotator in the Job Rotation Program, and I am thrilled to be working with the Compensation Administration team during my first rotation! I earned my bachelor's degree in computer information systems from Arizona State University in Tempe, Arizona. After graduating, I worked at the business school at Arizona State as a student support specialist for MBA programs, where I worked closely with students holding graduate assistant positions and discovered my passion for human resources. As part of the CCoE team, I'm especially looking forward to helping our campus partners execute equitable compensation practices.
In my free time, you'll find me browsing a museum, enjoying some live music, or exploring Wisconsin's woods and waterways. No matter the season, the outdoors are my happy place!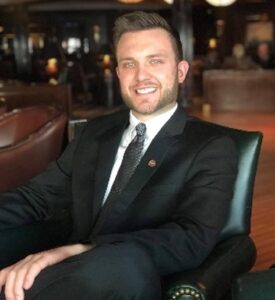 Brock Flowers, Compensation Analyst
I joined the team in March 2020. I received my bachelor's degree in business administration from the University of Minnesota–Duluth. After graduation, I made the shift from intern to full-time Human Resources employee for Douglas County (Superior, WI). While working as an HR Generalist, I realized an excitement and passion for the complexities of HR. I completed a Human Resources Management Certificate program at UW–Superior and decided to dive into an HR career! Prior to my current role, I spent four years employed with the Department of Administration as a human resources specialist senior. I enjoy working in the public sector as I feel a sense of pride in assisting our business partners so we can all serve the great State of Wisconsin. I look forward to collaborating with the campus community on compensation initiatives to make UW–Madison an employer of choice!
I enjoy all outdoor activities such as camping, hiking, hunting, and fishing. When I'm not in the woods or on the water, you'll find me chasing my two dogs and adventuring with my wife, Jess.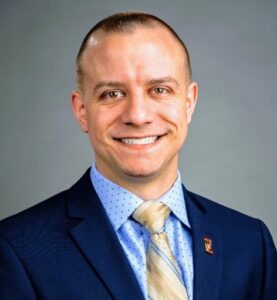 Dave Rosenberg, HR Coordinator
I joined the Compensation Administration team in June as an HR coordinator, and I am excited to be on the team. I earned my MBA from UW–Madison in 2021 and passed the SHRM-CP exam in May 2023. Before joining the team, I worked for Citi as an HR management associate, with assignments in Singapore and NYC. Prior to my shift into HR, I served for eight years as an intelligence officer in the U.S. Air Force and Wisconsin Air National Guard. I look forward to leveraging my skills and experiences to make UW–Madison an institution of choice.
In my free time, I enjoy reading, camping, mead making, and traveling. I have a deep appreciation for different cuisines, so I try to keep track of any new restaurants opening in Madison!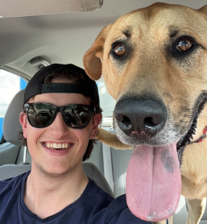 Jameson Dillman, HR Coordinator
Initially, I'd joined OHR's Administrative Services Unit in 2021 as a HR Office Assistant, and recently transitioned to the Compensation Administration team in April. I'm happy to remain with the university.
In August, I graduated from UW–Madison with a Bachelor of Art degree in psychology, and a certificate in entrepreneurship. I've always loved UW and look forward to sharing my love for this campus with my colleagues and those of you I will work with!
In my free time, I enjoy working on my car and going to car shows. I also spend a lot of time hanging out with my friends and family, watching sports, being outside, and playing video games. I have three German Shepherds, Zeus, Ziva, and Zuko, which is never a dull moment!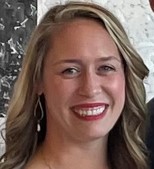 Kate Hattery-Groskopf, Compensation Analyst
I graduated from the University of Wisconsin–Madison with a bachelor's degree in history, and it was a dream of mine to come back and work for the University someday. Dream realized! I joined the Office of Human Resources Compensation Strategy team in August 2022. With over ten years of experience with strategic classification and compensation through my employment in multiple agencies with the State of Wisconsin in Human Resources, I consider myself a "lifer" with the Wisconsin Retirement System 😉. I am committed to and excited about collaborating with campus HR community to ensure our compensation initiatives are market-informed and that UW–Madison is an employer of choice.
I live in Verona with my husband, two-year- and four-month-old sons, and two dogs. Though I don't have as much of it as I used to, in my free time, I enjoy travelling the world, staying active through recreational sports (golf, water and snow skiing, softball, volleyball, tennis, and pickleball), reading, cooking, baking, and of course, the BADGERS! On Wisconsin!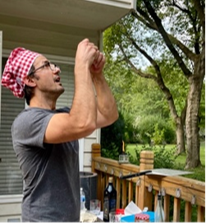 Mario Babičić, Compensation Analyst
I started my University of Wisconsin career at UW–Parkside in early 2010, and transferred to UW–Milwaukee (UWM) in Fall 2011.  At UWM, I had a privilege of being part of the Central HR's Employment Relations team as a senior HR specialist, as well as an opportunity to serve in divisional interim HR admin roles for a few years.  As my experience and interest in the compensation function grew, when the amazing chance to join OHR's TTC team at UW–Madison presented itself, I jumped at the opportunity and transferred here in the summer of 2021, just in time for the TTC implementation.  I feel incredibly lucky to have the colleagues I work with; the privilege to work in the field that I'm truly passionate about; and to be in a position where I am able to be part of something truly meaningful and significant.
I graduated with a degree in Industrial/Organizational Psychology from Carroll College (now Carroll University) in Waukesha, and a master's degree in HR and Labor Relations from UWM.  I am a Certified Compensation Professional certification from World at Work.
At the moment, the primary focus related to wellbeing is trying to stay sane running after two toddlers, while making sure our two senior dogs are nice and comfortable.  When we are able to find some time, we like to spend time with extended family, and occasionally having them over for my "made-from-scratch" pizza.  I also enjoy a decent espresso, and even received my dream espresso machine as a birthday gift.  I'm at the stage of life where some of the most mundane things are fun and exciting (think recent Progressive insurance Becoming Your Parents commercials).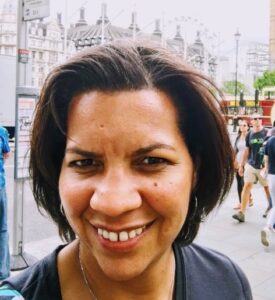 Meghan Owens, Compensation Administration Director
My career with UW–Madison began in 1994 when I started working for UW Hospital—back when the hospital was part of UW-Madison! From there, I moved to my first HR position in the College of Letters and Science; then moved to the College of Agricultural and Life Sciences and finally landed in OHR in 2009. I obviously love working in HR at UW–Madison. There is always something new and exciting going on here. The idea that you may have played a part in that new and exciting thing is extremely rewarding.
I feel truly fortunate to work with colleagues in CCoE who are passionate about the work and support each other—and am incredibly happy to see this team growing to the level that allows us to see our goals come to fruition. I am confident we will do positive things.
My husband and I have two daughters and two dogs. Our oldest daughter is in graduate school at Carnegie Mellon University (Roll TARTS!) and the youngest is a sophomore at the University of Kentucky (Go Cats!). Since my free time used to be filled with teenager activities, I am excited to find fun things to do with my free time but so far, my favorite activities are travel, my dogs, and hanging out with my husband again.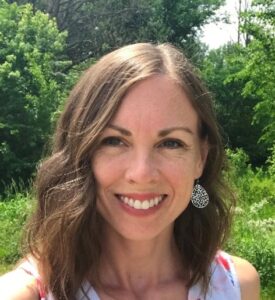 Michelle McCrumb, Compensation Analyst
I joined the Compensation Administration team back in June and am thrilled to be part of the team! I received my bachelor's degree in sociology at UW–Milwaukee and began working at UW–Madison in 2012. My human resources journey began at the Department of Family Medicine and Community Health with SMPH in 2014, and for the past six years I was with the College of Letters & Science (L&S) Administration.
I am passionate about collaborating with others, welcoming diverse perspectives, and finding creative solutions to meet the needs of my campus partners. I am excited to participate in the compensation initiatives on campus to ensure UW–Madison is equitable, market driven, and an employer of choice.
When not at work, I'm typically playing and exploring with my two children. I love to paddle board, hike, practice yoga, ski, travel and be in nature. I enjoy trying to new things—anywhere from new foods to arts and crafts and lots in between. I look forward to meeting and learning more about you all!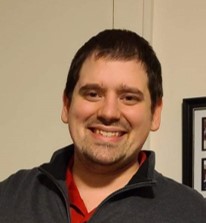 Stephen Colleton, Compensation Analyst
I'm a recent graduate of the UW–Madison MBA program specializing in human resources and just recently received my SHRM-SCP. I'm fortunate to have had the opportunity to attend UW–Madison as an undergraduate as well, graduating with a degree in Philosophy in 2016. I'm excited to have joined the team!
Prior to joining the team, I had the opportunity to provide compensation consulting for a variety of organizations in Wisconsin and throughout the country as a total rewards analyst at The QTI Group.
I recently transitioned into human resources after spending the last decade working in the service industry in a variety of management positions at concepts like Panera Bread and Qdoba.
Originally from Massachusetts, I'm a Boston sports fan (sorry Packers and Bucks fans!) but I've lived in the Madison area for the last twelve years. I also have an Australian Shepherd named Willow and two cats named Fire and Ellie. Please feel free to share pet photos if we cross paths!