This month we have the pleasure of learning more about the Equity, Inclusion and Employee Well-Being (EIEW) team within the Office of Human Resources (OHR).
In Spring 2021, the Office of Human Resources (OHR) established the Office of Equity, Inclusion & Employee Well-Being. This shift in OHR's organizational structure recognizes the inextricable link between equity, diversity and inclusion and employee well-being. Employees who are not emotionally, mentally, physically, and socially well are unable to engage in their work authentically and successfully; cannot grow and thrive on campus; and are more likely to leave the institution. This is particularly true for marginalized and/or underrepresented employees on campus.
Mission: To provide high-level consultation, support and resources to schools, colleges, divisions and units to support the creation and sustainability of healthy, equitable and inclusive policies, systems, and environments for employees to engage, grow, and thrive on campus.
 Vision: To center the humanity of our employees through holistic, whole-person and whole-body approaches to create and sustain equitable and healthy work policies, work environments, and work practices.
Over the past two years, the Office of Equity, Inclusion and Employee Well-Being has focused on establishing an organizational mission, vision and core values. In collaboration with key stakeholders across campus, the team identified strategic priorities and developed a new website to establish EIEW as a critical campus partner and resource. In addition to laying the foundation for this new office, the EIEW team continues to respond to campus requests for ongoing support and resources to transform current process, practice and culture to center employee experiences. Now fully staffed, EIEW is currently engaging in strategic planning for the coming year to align priorities with OHR and the wider campus.
MEET THE TEAM
Ankita Bharadwaj, BIPOC Employee Retention Specialist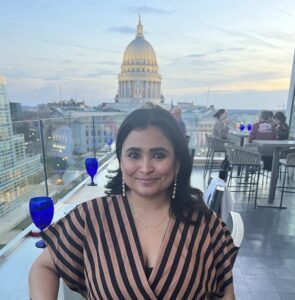 Ankita Bharadwaj joined the team in November 2022. As the BIPOC employee retention specialist, Ankita engages in creating programs, events and strategies to cultivate a sense of belonging for and with BIPOC employees on campus. Ankita graduated from the UW–Madison Law School in 2020 as an international student; served as the Vice President of Middle Eastern Law Students Association from 2016-2017; and served on many non-profit boards—including the Madison Community Coop, North American Students of Cooperation and as one of the inaugural members of the City of Madison's Police Civilian Oversight Board that oversees the Madison Police Department (tasked to address instances of civilian dissatisfaction or complaints against the department). Recently, Ankita was appointed by Governor Evers to serve on the State Council on Affirmative Action to ensure the state's compliance to affirmative action policies and laws.
Before joining EIEW, Ankita served as the Democratic Party's Community Organizing Director of Dane County. Ankita worked to get Governor Evers re-elected for a second term with a record breaking voter turnout for Latino, Black, AAPI, Youth and Women in the 2022 midterms. Ankita also has their own show called Subtle Desi Traits that strives to amplify BIPOC, women and youth voices and talks about world affairs with a Desi perspective.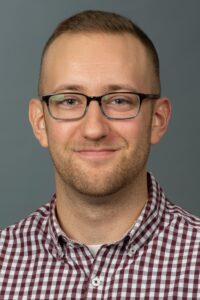 David Sparkman (he/him/his), Assessment and Analytics Specialist
David Sparkman joined the team in October 2022. The primary function of his role is to support the assessment, analysis, and communication of insights on diversity, equity, inclusion, and well-being among UW employees. Originally from the metro Detroit area, David earned his PhD in psychology from the University of Arkansas, with a background in social psychology, research design and measurement, and data analysis. In 2018, David started his career as an Assistant Professor of Psychology at the University of Wisconsin–Eau Claire, where he researched and taught courses on topics related to the psychology of diversity, social identity, and intergroup relations. David has also spent time as a research partner at the Wisconsin Institute for Public Policy and Service, where he developed, analyzed, and communicated insights on a community survey measuring residents' beliefs about diversity, feelings of belonging, and other topics.
David is especially passionate about understanding people's experiences as they navigate their social world. This includes how our individual and social identities, interpersonal relationships, work environments, and the broader society impact who we are and how others perceive us. In his role, David thinks of data around employee's experiences at UW as small pieces to a larger story, and is especially excited about uncovering and sharing this story in a way that promotes greater equity, inclusion, and well-being for all employees on campus.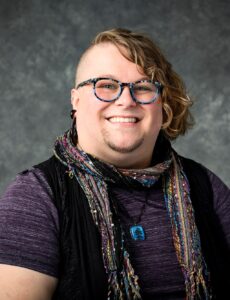 Jay Botsford (ze/zir or they/them), LGBTQ+ Employee Retention Specialist
Jay Botsford joined the team in February 2023. Jay has been advocating with LGBTQ+ communities in WI since 2002, providing equity & justice-focused training/consulting to service providers and institutions, supporting the leadership of students and youth to make change in their communities, and organizing for justice. After graduating from college in Milwaukee, Jay worked in the nonprofit world in a variety of roles, including as a sexual health educator, youth program manager, LGBTQ+ advocate, and social justice trainer/consultant. Recently, ze completed zir MPH (Master in Public Health degree) with a focus on health equity and social justice.
Since 2016, Jay has held several roles at UW–Madison, including as an advocate for health justice for transgender, nonbinary, and gender expansive communities with the School of Medicine and Public Health and as an antiracist learning community facilitator with Learning Communities for Institutional Change and Excellence (LCICE) before joining the Office of Equity, Inclusion, and Employee Well-Being. For the last 6 years, ze has also served on the LGBTQ+ Shared Governance Committee, including several years as co-chair.
Ze is passionate about community care/mutual aid, building solidarity and accomplices (not just allies), and centering health and healing in social justice work. In zir role as the LGBTQ+ Employee Retention Specialist in EIEW, Jay is excited to build resources and support for LGBTQ+ employees at UW, and to work collaboratively to transform the institution into a place where all LGBTQ+ employees can thrive.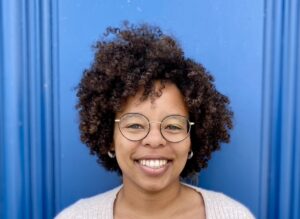 Kela Caldwell (she/her), Graduate Assistant
Kela Caldwell joined OHR in October 2019 as a graduate assistant to support the Engagement, Inclusion and Diversity (EID)  initiative. Since joining OHR, Kela has learned so much about campus structures, systems, and what it means to advocate for change from inside an institution. Over the years Kela has supported the assessment, design, and delivery of employee learning around anti-racism practices and transforming campus culture, facilitated a campus-wide EID community of practice, and supported the development of a recruitment through racial equity learning series for departments and units across campus.
Kela has been a member of the UW–Madison community since 2018 as a PhD student in the Department of Geography. Kela's research focuses on African American vulnerabilities to displacement, citizenship, migration and racial violence. Kela's commitments to research, community, and her students emerge from the connections she makes between her own lived experiences and the inequities she observes around her. Kela is excited to continue her work with OHR by actively promoting and building anti-racist practices on campus in a multitude of ways.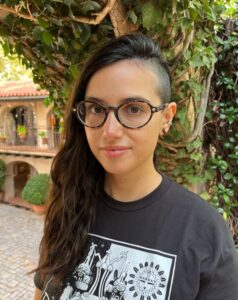 Nandi (he/they/she), Health Equity and Well-Being Specialist
Nandi joined the team in June 2022. Nandi is responsible for providing consultation, convening stakeholders, assessing needs, and identifying gaps to guide/lead the campus employee well-being strategy to enhance the health outcomes, experiences, and well-being of UW-Madison employees through population-level and public health approaches. Nandi has been working in the fields of social justice and holistic health for over a decade prior to starting this role and has a background in cross-cultural research, teaching, and training. Nandi received a BS in Psychology & Biology and a MS in Counseling Psychology from UW-Madison. Nandi is also a licensed psychotherapist and has previously served as a clinical supervisor who specializes in working with marginalized populations using ancestral somatic healing modalities. Nandi's lived experiences as a queer, trans, woman of color is something that motivates them in engaging in this work.
Nandi is most excited to provide healing and systemic change to the lives of UW employees. Nandi's goal is to improve the well-being of the campus community by engaging with campus stakeholders and using population-level data to prioritize, design, implement, and evaluate strategies to achieve measurable health improvements by creating health-supporting systems, policies, and environments. This past spring, Nandi launched a new and innovative emergent learning series, Rejuvenation through Decolonization. The series centers learning theories and histories of health equity and healing justice concepts and provides meaningful dialogue around healing and growth.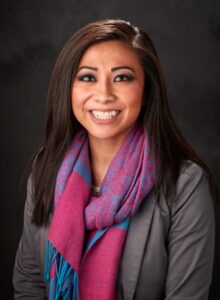 Susan Degrand (she/her), Equity, Inclusion and Employee Well-Being Director
Susan Degrand joined OHR in 2018 and was initially hired to provide support to the Engagement, Inclusion and Diversity initiative. Since joining OHR, Susan has regularly engaged with OHR and campus partners to better support employees through a human-centered lens. In spring 2021, Susan was asked to serve as the Office of Equity, Inclusion and Employee Well-Being Interim Director to provide leadership and vision for this new office. In April 2023, Susan was named the Director of the office.
Susan has been a member of the UW–Madison community for over 16 years—as a student and as an employee. Susan has had a longstanding history working in equity-focused roles on campus in different campus contexts including academic, administrative, student-focused and employee-focused learning and working environments. She is excited to continue working in community and in collaboration with incredible thought leaders to ultimately transform organizational processes, practices and environments to better meet the needs of employees on campus.
PARTNERSHIP
The Office of Equity, Inclusion and Employee Well-Being works in very close partnership with the Inclusion@UW Program Manager within OHR's Learning and Talent Development team, Tamie Klumpyan. This key partnership allows us to thoughtfully engage and integrate employee learning into our collective work to support campus.