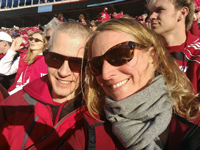 Position: Director of Talent Development (August 2015–Present)
Location: Office of Human Resources, 21 North Park Street
Educational Background:
BA in Political Science and Russian from Grinnell College
MS in Student Personnel from Truman State University
PhD in Higher Education Administration and Women's Studies from Penn State
How did you get into working in Talent Development?
Much of my professional experience has been in student affairs and undergraduate advising – which I grew passionate about early on my professional career working as a Resident Hall Director. I wanted to change the type of population I supported after about 25 years and wanted to maintain my connection to talent development and higher education environments.
My role at UW–Madison allows me to do just that. Working for the Office of Human Resources – Talent Development, allows me to continue to help others achieve their goals through exploring and implementing learning and development programs for faculty and staff across the campus.
What excites you most about working on the UW–Madison campus?
The impacts. I am excited about complexity, scale, and scope of how UW–Madison operates. I am passionate about working with employee populations that are engage in the learning organization. Employees at all levels have the opportunity to learn, develop, and grow with the university. I have met several colleagues who have been with UW–Madison for many years and have different learning career paths.
What's happening at 21 North Park?
The Office of Human Resources in its second iteration of HR Design. We are realigning our team structures to increase collaboration internally to better support our HR colleagues across campus.
My colleagues in Learning and Talent Development and HR Communities of Practice continue to evolve our competency models and how we evaluate our program offerings through partnerships, collaboration, and learning.
Advice for HR Professionals
I am excited for the opportunity to engage with, and learn from, my HR colleagues; I'm also excited about my own personal development in HR practice. My advice is for all of us across campus, no matter our role, is to stay curious and always be learning.
Tell us more about you
I spend much of my time with my partner, dogs, and friends. Madison is such a great place to live – the food, music, arts, culture, and outside has so many great options. Every summer I swim the three of the five lakes of Madison. Now that we are talking about this, I have a new goal of swimming all five.
I also have a healthy obsession of the Soviet Union and current state of Russia. I spend my free time researching and reading as much as I can.
I look forward to working with you all!
Lynn Freeman