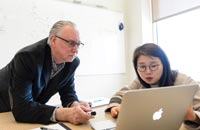 HR Representatives have an important role in helping managers get the word out to employees about campus forums on the Title and Total Compensation Study. The forums will introduce employees to the Study and gather input on the job families. The forums start on September 13.
Here are some specific ways HR representatives can help:
Follow-up with managers about inviting employees to attend the campus forums. Managers received a forums schedule flyer (pdf) at the end of August to use for this invitation.
Be sure that posters inviting employees to forums are on bulletin boards at your college, school, and division, particularly where employees do not have access to email. If you need additional posters, contact Brittney at bahayes@wisc.edu.
Provide managers with information to help employees understand the Title and Total Compensation Study and address any fears and concerns. You can provide managers with the website address (hr.wisc.edu/title-and-total-compensation-study) for the Study which includes frequently asked questions in the resources area. You may also share the Guiding Principles (pdf) and recent article in Inside UW–Madison with managers to help them communicate about the Study.
If you have any questions, please contact the OHR Compensation Analyst supporting your college, school, or division.